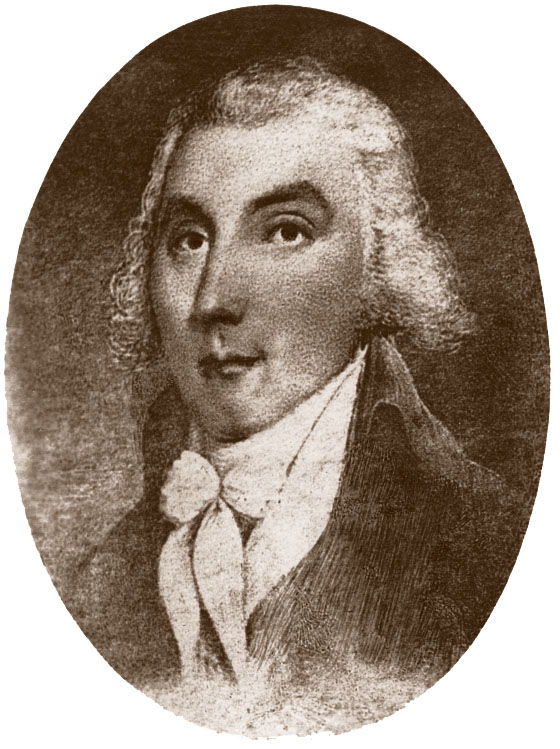 Edward Antill came from Richmond, Surrey, England. In his will, dated 10 Jun 1704, he gives his age as 45, so he was born in 1659. At the age of 24, he was already admitted as a freeman of New York City. He appears in early records as a successful merchant, lawyer and landowner. He married Elizabeth Bowne with a license dated 10 Sep 1686. In his will he names Sarah as his wife, whom he supposedly married in England. No mention of Antill appears after 1704, the date of his will. The will names 6 children: William, Charles, Anne, Edward, Elizabeth and George, of whom the first three were assumed to be by the first wife, Elizabeth. In 1705 Sarah Antill and her children were captured 150 leagues off Sandy Hook by a privateer who took them to Martinico.
Extracts from American Newspapers, Relating to New Jersey. 1704-1775 Abraham Van Doren Honeyman, 1894.
New York, June 18. On the 16th Capt. Outerbridge and some of his men came to Town and relate that on the 3d Instant he Sailed out of Sandyhook bound for Jamaica loaded with Provisions, and was taken by a Privateer from Martinico about 150 Leagues off, and this his Sloop (wtih Mrs. Antill and her children who were Passengers on Board) is sent to Martinico. That on the 14th Instant the same Privateer came to Sandyhook, and in the night sent up her Boat to the Narrows with design to take Capt. Potter who was then Loaden at the Watering Place bound for Nevis; but the Boat could not find him; about 10 days before, they took a small Sloop belonging to one Godfrey of this Town, loaded with Pitch and Tarr which they burnt, one Reynolds was Master of her, and 'tis said sides with the French and is a Pilot to them on this Coast, and has informed them of our Vessels expected and Outward bound. The Privateers perceiving they were discovered, Capt. Outerbridge and his men and Godfrey pursuaded them to Land them at Sandyhook, which they did and afterwards stood along shore to the Southward. Yesterday News was brought that they had Landed in East New-Jersey a little beyond Neversinks, and had burnt 2 Country Houses. On Sunday the 10th Instant, the Cettey Privateer, Capt Bond for England via Virginia, and 2 Sloops Sailed out of Sandy-hook and happily mist this Privateer.
In 1710, the pirate Giles Shelly made a will in which he states that, being childless, he had adopted the young Edward and raised him. Nothing is known of Sarah or any of Edward Antill's other children. Edward Antill's 1704 will wasn't proved until 1725, which probably had to do with the younger Edward Antill's majority, rather than the continued existence of the father.
Abstracts of Wills Vol Liber 10
Page 42. - In the name of God, Amen. I, Edward Antill, of New York, aged 45 years, and of sound mind. I leave to my dear, tender, and loving wife Sarah one-half of all my land I formerly bought of Augustine Graham, Esq., lying to the north of Hudson river. I leave the other half to my six children, William, Charles, Anna, Edward, Elizabeth, and George. I leave to my wife Sarah all my right, title, and interest which I have in a certain proprietorship 1 lately purchased of Daniel Joshack, Laird of Minnevorre, in East New Jersey. I leave all the rest of my personal estate to my wife Sarah and to my daughter Anne. I appoint my wife, and Giles Shelley and James Emott, executors. Dated June 10, 1704. Witnesses, William Vesey, B. Cosens, William Sharpas. Proved, April 7, 1725.
EDWARD ANTILL and Some of His Descendants, William Nelson, Proceedings of the NJHS
A contemporary of [Captain] Kidd was Giles Shelly, master of the ship Nassau, who sailed for Madagascar in June, 1698. Stephen de Lancey and other prominent merchants of New York and London were interested in the venture. Lord Bellomont was at odds with some of the owners, and did not hesitate to class Shelly as a pirate, though with slim foundation, judging by his own statements. "I am told," he writes, July 22, 1699, "this Shelly sold rum which cost but 2s per gallon at New York, for 50 shillings and £3 pr gallon at Madagasca, and a pipe of Madera Wine which cost him £19 he sold there for £300." He returned in May, 1699. and touching at Cape May landed "fourteen men who had been upon piratical voyages in the Kast Indies, and put some others on board a New York sloop . . . . to be landed and dispersed in other places as they found oppertunity." Forty or fifty others he landed in Pennsylvania.

It was suspected - nay, believed, at least by Lord Bellomont, and by Governor Basse, of New Jersey - that many, if not most of the men thus surreptitiously landed, had served under Captain Kidd, and that they paid Shelly "12,000 pieces of Eight, and 3000 Lion dollars, nominally as passage money for twenty-nine men to America." Having landed and secured all his goods and money he ran his ship ashore near New York, and then came to the city, where he "so flushed them with Arabian Gold and East India goods that they set the government at defiance."

The Governor ordered Shelly to be committed without bail, for piracy. The Council was advised in the morning by Attorney General Graham that this could be lawfully done. In the afternoon, however, he took a contrary stand, and Shelly was admitted to bail, the bond being drawn by Edward Antill, his counsel, and in such a way as to outwit the Attorney General. Lord Bellomont did not hesitate to declare: "There's a violent presumption that Mr Graham was brib'd by Shelly and so contrived his escape." It was reported that the New York merchants had cleared £30,000 by Shelly's voyage from Madagascar.

Despite Lord Bellomont's hostility, the successful captain was in later years counted among the most reputable merchants in New York.[ N.Y. Col. Docs., IV., 128, 138, 179-180, 532, 542, 551, 552, 584, 812, 1135; Cal. N.Y. Hist. MSS., II., 271.]





Edward Antill, A NY Merchant of the 17th century
Edward Antill, 2d, took up his residence at an early date at Piscataway Landing, on the Raritan river, on a portion of the broad acres inherited from his father, and there he spent most of his life. He added a tract, 90x11 chains, on April 7, 1735, by deed from Andrew Johnston, of Perth Amboy, merchant. In the deed he is described as of Piscataway, and the land as "in Piscataway on the Raritan river."

He married Catharine -, as appears from a power of attorney given by Edward Antill, of Piscataway, merchant, appointing Catharine his wife attorney to enter into his lands, etc., the four houses within the city of New York only excepted, and to convey the same. This instrument is dated June 20, 1729. His first wife having died, he married 2d, Anne Morris, daughter of Governor Lewis Morris, of New Jersey, June 10, 1739; she was born April 3, 1706. She survived him.
Mrs. Antill seems to have possessed something of the Governor's whimsical obstinacy and petulance. Mr. Whitehead says Antill was "an oddity," and as an instance thereof relates an incident to the effect that he once expressed to his wife his regret that the women of the day spent so much time in idleness or profitless pursuits, instead of "abiding in the fields with their maidens," gathering flax or grain. The next morning on coming down to breakfast Mr. Antill found the house deserted, and no signs of the matutinal repast. His wife had taken him at his word, and was out in the fields with her handmaidens, pulling flax. This is an illustration of the serious view Mr. Antill took of life.
He was elected to the Provincial Assembly in 1738, serving two years, and quite naturally voted in that body to sustain Gov. Morris, his father-in-law, who on the recommendation of the Council, appointed him, December 1, 1739, to be one of the Judges of the Middlesex County Court of Common Pleas.
He was destined for still higher honors. Gov. Morris recommended him in 1740 for a seat in the Council, saying: "He is a man of good Estate & Sence, and if admitted to that board, I hope and believe will prove an usefull and deserving member of it." He wss appointed May 25, 1741, to make a quorum of the Council, but appears to have been so indifferent to the honor that he did not take his seat until October 28, 1743. The appointment was confirmed in 1745. He was reappointed in 1746, as a member of Gov. Jonathan Belcher's Council, and again in 1761, in the Council of Gov. Josiah Hardy, but was suspended by Gov. Thomas Boone a few weeks later, for non-attendance, by which suspension was confirmed by the King in Council, by order dated January 2, 1762.
As a member of the Peace of Monmouth county, Dec. 17, 1744; of Bergen county, Sept. 26, 1745, and March 28, 1749; of Middlesex county, Aug. 16, 1746, and March 28, 1749; of Salem county, March 30, 1749; of Morris county, May 13, 1749; of Cumberland county, April 25, 1750; and Judge of the Middlesex county Oyer and Terminer, Aug 30, 1746.
He was not only a merchant, but farmed on an extensive scale, having 370 acres and upwards, 40 being in meadow and timber, and an orchard of 500 apple trees. He grew apples for his distiller, and raised trees for the market, offering the latter for sale in 1750 at "nine Pence per Tree, if chosen; or six Pence per Tree if taken by the Row, as they stand in the nursery."
His brewhouse, across the river from New Brunswick, was destroyed in a severe storm, in July, 1752, but was at once rebuilt, 60 feet long and 38 feet wide, with a new copper, holding twenty-two barrels, with approved appurtenances for making cider, etc. He offered the whole place for sale in December, 1752, and again in September, 1753. He advertised in the New York Mercury, March, 1, 1762, for sale "at his Seat near New Brunswick, in New-Jersey, four or five Yoke of working Cattle, of different Ages, from 8 to three Years old; they are now fit for Service, being in good Heart, and full Flesh'd, they are fed upon good Hay and Corn."

Abstracts of Wills on File in the Surrogate's Office: City of New York, Volume 26, 1894, p60
Page 8. - Giles Shelley. In the name of God, Amen. I, Giles Shelley, of New York, merchant, being in good health, sound mind and perfect memory. I leave to my friends, Robert Watts and Robert Livingston, merchants, all that my messuage, farm and lands, situate and lying at the Bowery, and the stock thereon, and the goods and the household stuff, to have and to hold during the life of Mary Peters, wife of Charles Peters. In trust for her to occupy and enjoy. And after her decease, the same is to go to Edward Antill, whom I have adopted and brought up, having no children of my own, and to his heirs and assigns forever. I give to the said Mary Peters £50, and £50 yearly for ten years, also my Indian slaves, Symon, Betty and Jenny, and all these bequests are to be free from the control of her husband. I leave to my aunt, Elizabeth Clarke, of Gravesend in Kent, England, £20 yearly. To John Tudor, Jr., £50 when of age. I leave to my wife £20 and no more. I give, devise, and bequeath to my said child Edward Antill, my two houses and land in the city of New York, and all other lands and tenements whatsoever, to him and his heirs of his body, but in default of such heirs then to my loving friends Anthony Lane and John Lane of Barbadoes, merchants. I leave all the rest of my personal estate to the said Edward Antill; my executors have full power to sell property and to use the proceeds for his maintenance and education. 1 appoint Robert Watts and Robert Lulling executors.
Dated September 22, 1702. Witnesses, Benjamin Ashe, William Bickly, John Davis. I leave to my executors £150 for their care and trouble.
Codicil. Whereas I, Giles Shelley, being very sick and apprehensive the hour of my death is drawing near, I confirm my will, except as regards Mary Peters, who since the making of my will is dead, and that part I annul and make void. I leave to my wife £15 per annum for life. I leave to Elizabeth Clarke £20 in addition to her legacy. I leave to. Mr. Chambers £50. To the widow Sheppard £50. To Anne, daughter of Edward Antill, £150. I also give to my wife £60 in money or household goods.
Dated February 19, 1710. Witnesses, Lancaster Symes, Stephen Thomas, Gilbert Ash, William Bickley. Proved, March 6, 17ff.
[note. - Captain Giles Shelley was one of the citizens of New York, who by privateering, or what might be more properly called piracy, amassed a fortune by his very successful voyages. The lot and house where he lived on Pearl street, was in after years taken to extend Cedar street to Pearl. - W. S. P.]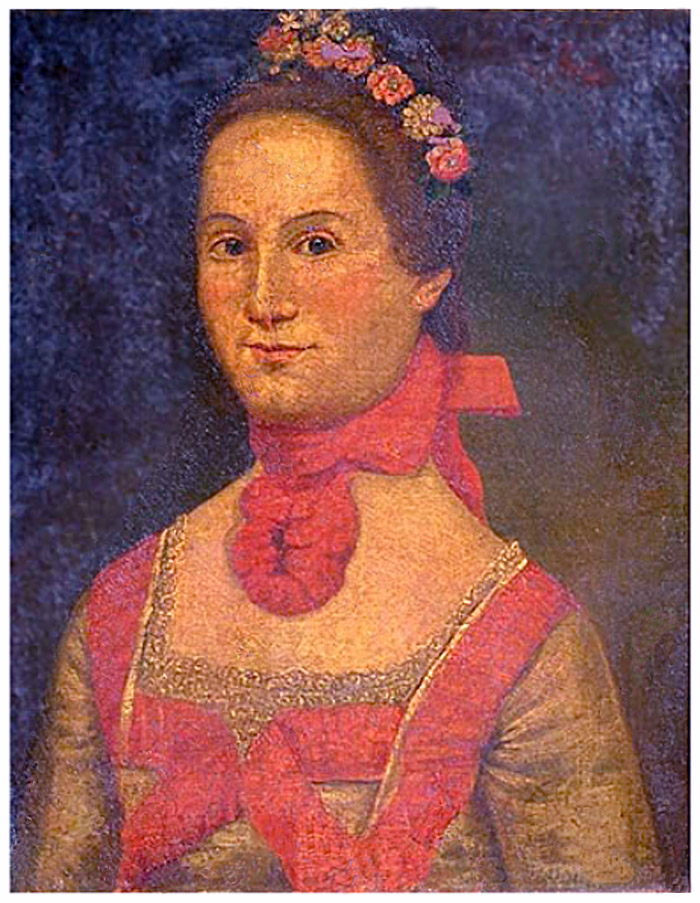 Charlotte Riverin Antill (1750-1785)
Timothy and Rhoda Ogden Edwards
CHILDREN OF WILLIAM W. EDWARDS AND HELEN ANN MANN.

Colonel Edward Antill, of New York and Charlotte Riverain, of Montreal. Lt. Colonel Antill was with General Montgomery, as his Chief Engineer, in the attack on Quebec, 1775; appointed by General Benedict Arnold Adjutant General of the American Army in Canada, 1776; was the intimate friend of General Alexander Hamilton, who became godfather, and, later, guardian to his infant daughter, Frances, afterwards the wife of Arthur Tappan.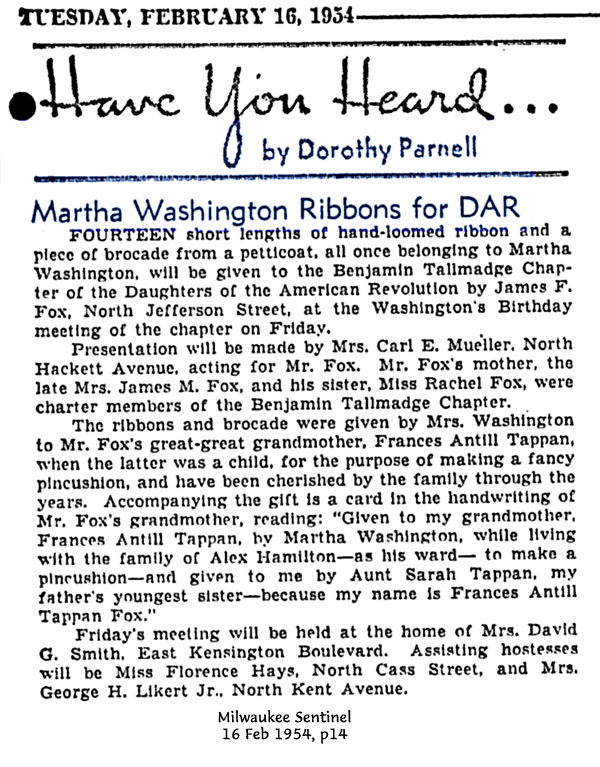 Edward Antill attended Columbia College, then King's College, graduating in 1762 with an A.M. degree. Having studied law, he was admitted to the New York bar, but not long after that, he moved to Quebec, marrying Charlotte Riverin in 1767, the year after he was admitted to the Quebec bar, and became active in the Masons (search for 'Antill'). Edward's father died in 1770, though a paper on his experiments in wine production was published in 1771.
Edward Antill and his family were living in Quebec when General Montgomery's forces surrounded the city in December of 1775. Edward had married Charlotte Riverin, the daughter of a merchant, in May of 1767, when she was 15 years old and he was 25. By December of 1775, Charlotte had already had 6 children, 3 of whom had died as infants.
Antill was ordered to defend the city but, being an American, he refused and joined Montgomery's forces, being taken on as an engineer. He was then 33 years old.


Alexander Hamilton, Ron Chernow, 2005, p203
After their third child, Alexander, was born on May 16, 1786, the Hamiltons performed an exceptional act of kindness that has long been overlooked: they added an orphan child to their burgeoning brood. Colonel Edward Antill, a King's College graduate and Revolutionary War veteran, had foundered as a lawyer and farmer after the war. When his wife died in 1785, he was grief-stricken and encumbered with six children. By 1787, after suffering a breakdown, he committed his two-year-old daughter, Fanny, to the Hamiltons, who took the bright, cheerful girl into their home. Edward Antill died two years later, so Alexander and Eliza kept the child until she was twelve, when she went to live with a married sister. "She was educated and treated in all respects as [Hamilton's] own daughter and married Mr. [Arthur] Tappan, an eminent philanthropist of New York," said son James. From London, Angelica Church cheered on her saintly sister, telling Hamilton, "All the graces you have been pleased to adorn me with fade before the generous and benevolent action of my sister in taking the orphan Antle [sic] under her protection." That Eliza married one orphan, adopted another, and cofounded an orphanage points up a special compassion for abandoned children that might explain, beyond his obvious merits, her initial attraction to Hamilton.


The Life of Arthur Tappan, Lewis Tappan, 1870, p262
"Mother, at our request, would tell us of her early years. At the age of two, she was left an orphan. Her father, when he was dying, committed her to the care of General and Mrs. Alexander Hamilton. When Gen. Hamilton was Secretary of the Treasury, and Gen. Washington, President of the United States, they lived opposite to each other in Philadelphia, and the children of the two families were together every day. Mrs. Washington took the Custis children, and Angelica Hamilton, and Fanny Antill, (my mother,) in her carriage to dancing-school twice a week. She stayed with them through the lesson and brought them home.
"Mother remembered Gen. Washington once sitting on a sofa in the room where the children were playing, and laying aside his newspaper, to watch them, and smile and encourage them to continue their frolic. Once, on a reception evening, when the drawing-room in his house was filled with ladies and gentlemen, talking and laughing, and the children were amusing themselves in a corner, there was a sudden great stillness—and mother looked up with surprise and awe, and saw Gen. Washington coming through the folding doors.
"From the time mother was twelve years old, until she was married, she resided with her sister, Mrs. Lansing, who, with her husband, filled well the place of the tenderest father and mother to her.
They had four children, who were near her own age.
"Father liked to tell us of his first meeting mother in church. They sat opposite each other in a square pew. He said he was attracted by her bright black eyes, and cheerful and animated expression. She was naturally bright and cheerful, generous and unselfish. It was her constant aim to make a happy home for her husband and children—a home where friends were ever welcome, and the poor and sorrowful found help and comfort. When father was absent, and there was not any guest to officiate, mother always led in prayer at family worship."


Society of the Cincinnati
Born on the 11th April, 1742, at Piscataway, N.J. Died at St. Johns, Canada, in 1787.
He graduated at King's College, New York, in the CLass of 1762. Was a member of a prominent family of New Jersey. In 1766 he settled in Quebec as a lawyer, where he married Charlotte Riverin. When General Montgomery appeared before Quebec in December, 1775, he left that city, and joining him, influenced him to change his plan of attack. He became his Chief-Engineer, constructing field works of ice, where earth was inaccessible, and was present with him when he fell. When leaving the camp at Lachine on the 5th of January, five days afterwards, he wrote to Colonel Burr.

In 1776, when Congress formed the 2d Canadian Regiment mainly of exiles, Colonel Moses Hazen, a British half-pay officer in easy circumstances, residing at St. Johns, and who had already cast his fortunes with Montgomery, and followed the remainder of the American forces over the frontier, was chosen its Colonel, and Edward Antill Lieutenant-Colonel. It was even then a strong regiment - seven hundred and twenty men - but Congress appears to have valued it in ordering it to be it to be recruited in any of the States to four battalions of five companies each, with four Majors and other officers in proportion.
Sixteen companies, however, appear to have been the fullest complement of what was known as "Congress' Own," It had evacuated Canada, under General Sullivan, and therefore continued in his Brigade, which served with the main army at Trenton and Princeton, and later, in protecting the lines at Morristown. On the 8th of January, 1777, General Washington wrote him from his headquarters there a letter suggestive of coming action:
"Call upon all your officere who are upon recruiting service to exert themselves as much as possible in filling their companies and sending their recruits forward to some general place of rendezvous, that they may be armed, equipped and got into service, with as much expedition as possible. As you and Colonel Hazien had the nomination of your own officers by virtue of your commissions, I shall have no objection to any gentleman of good charscter whom you may think fit to appoint,"
On the 24th of February following, Richard Peters, Secretary of War, urges, in a letter, upon Colonel Antill, then commanding the regiment, the necessity, from impending events, of promptness in hurrying his companies forward to unite in meeting the enemy.
In complying, the regiment was soon actively engaged under Sullivan, and when he attacked the rear of Howe's army on Staten Island - consisting of three thousand British and loyalists - with eight hundred men, on the 22d of June, after partial success succumbed to the vigorous resistance, he became a prisoner, thereby losing his opportunity of being present at Brandywine, Germantown, and in much important service with his regiment.
He was not exchanged until November 10th, 1780, and only then through the influence of his brother. Major John Antill, who, differing in sentiment, adhered to the Crown,
Rejoining his regiment at Flshkill, he soon afterwards assisted in beating up the quarters of Colonel James de Lancey at Morrisania, for which he earned the thanks of Washington, in general orders.
In August he marched to Philadelphia, joining Colonel Olney's Rhode Islanders, and proceeding by the Chesapeake and James River to Yorktown and the surrender of Cornwallis.
Although he had asked Congress to be relieved from service in an earlier period of inactivity, he continued therein until the disbanding of his regiment in November, 1783.
Not found on the Half-Pay Roll, he appears on the Balloting Book of New York in the list of Canadian and Nova Scotia refugees, who had united with the Americans, to whom lands were granted by the State under the direction of its commissioners.
The following letter, preserved among the Society's archives, is of interest:
COLDENHAM, July 7th, 1783,
My Dear Friend, 6 o'clock.
Retired from the din of arms and a military life clothed with laurels, and the thanks of a most grateful country, all my pay and arrears of pay paid up to this day in solid gold, and a pension of half pay for Life, I now amuse myself with my Dog and my Gun. I send the bearer on a little business to General Knox, and at the same time after enquiring after the health of your good little woman, in which Mrs. Antill joins me, I beg the favor of you to fill my powder horn with the best powder you have. If the U.S. insists upon it, I will deduct it out of the Guineas I received from them when we were disbanded.
Compliments to your good Family and all Friends.
Yours Sincerely Edwd Antill.
Major S. Bauman
West Point- per Express.
His wife resided in New York during the war, died there on the 3d of September, 1785, and was buried in St. Paul's Churchyard. Colonel Antill returned to his old home at St. Johns, and also died soon after. His eldest daughter, Mannette, married Colonel Garrit G. Lansing, of Albany, and his youngest, Frances, became the wife of Arthur Tappan, Esq.
It will be seen by "Whiting's Revolutionary Orders of Washington" that his useful life was not free from one of those Courts of Inquiry that attend such men as venture upon authority, and that after an impartial investigation he was honorably acquitted. He subscribed his name to the Institution of the Cincinnati with the officers of his regiment on the Parchment Roll, with Washington at its head, now in the possession of the General Society.
To George Washington from Edward Antill, 27 March 1780

Flatt Bush March 27th 80

May it please Your Excellency

Assur'd, this will be delivered You, by Mr Bradford now Exchang'd: I could not in Justice to myself, & Family, forego so good an oppertunity, to mention my Situation to You Sir; particularly as it is to escape the prying Eye, of Impertinent Curiosity.

Once more, in Anxious Expectation, of a Change, in our unfortunate Situation; we have waited the Result of the Commissioners meeting at Amboy: The Breaking off, that Negotiation (as we are inform'd) without Effect, has thrown a Damp upon our Spirits, and in a peculiar manner Affects me. It is perhaps, Unworthy a Soldier to complain, as he is to Lay his Account, in Similar Difficulties, upon his becoming one: but, when He daily Sees, an affectionate & delicate wife, and four small Children, heretofore Tenderly brought Up; driven from their Native Home, and encountring every difficulty of Poverty, & Distress, on his Account; it calls up, in him, the feelings of an Humane Husband, and a Tender, & affectionate father: It would be unpolite, to detain Your Excellency, with a Detail of personal Sufferings; But appealing to your well known Tender feelings, & Humanity, I most Earnestly Request: you will endeavour my Exchange, on the Ground of my peculiar Situation: as I know of but one, of my Rank before me in Turn, and he a Single Man. Or that you would be graciously pleased, to order a Reasonable provision to be made, for my Wife, & Family in our lines, where I would Send them, (being unable any Longer to support them Here) and then if we are to continue Prisoners, Let England, Hallifax or Prison Ships, be our Doom I hope the Same Love of my Country, that dri[ves] my Sword, will Support me with a Manly fortitude, thru Every Scene of Accumulated Distress.

With a Wish for a line from Col. Harrison in Return to this by any officer Coming in who could bring it. I have the Honor to be your Excellencies most Obedt & Most Hble Servt

Edwd Antill


Institution of the Society of the Cincinnati, John Schuyler, 1886, p241
American Philosophical Society
ITEM
FROM
TO
DATE
NOTES
Letter
Anthony Wayne
Sarah Wayne Robinson
12 Aug 1776
Introduces the bearer, Mr. Antill
Letter
Benjamin Franklin
Edward Antill
18 Feb 1774
Can't help but will speak with Mr. Potts
Letter
Edward Antill
William Smith
&nbsp&nbsp Oct 1768
Declines election to APS because of >prior election to American Society for promoting Useful Knowledge