JAMES GRAHAM (1656 - 1700)
James Graham arrived New York on the Blossom, on the 7th of August, 1678. His parentage has not been established, but he is sometimes reputed to be a close relative of James Graham, the Marquis of Montrose. Graham held political offices in the province of New York, including those of attorney-general and He was a good friend of Governor Robert Hunter, and of Robert Livingston, 1st Lord of Livingston Manor.
Abstracts of Wills Vol I 1665-1707
Page 368.--JAMES GRAHAM, Westchester, June 12, 1700. "My body to be decently buried in the New York burying place, by my deceased wife," at the discretion of my loving friends, Mr. Robert Livingston and Mr. Thomas Codrington, whom I appoint executors. Directs all debts to be paid, "especially one legacy of œ50 given to my son Augustine by his grandfather, and œ50 given to my daughter Isabell by her grandmother, having been received by me." Gives full power to executors to sell houses and lands. Rest of estate to children Augustine, Isabel, Mary, Sarah, Margaret and John.
Witnesses, James Emott, Wm. Vesey, Philip French, James Inyan. œ œ sh. d. qr.
New York Tax Lists Vol I, 1695-1699
Page 16

| | | |
| --- | --- | --- |
| p.50 | James Graham house & Ground | 75 00 01 06 3 |
| p.50 | James Graham house & Ground | 75 01 08 11 |
| p.122 | James Graham house | 45 07 00 1/2 |
| p.129 | James Graham 2 houses | 40 06 3 |
| p.152 | James Graham house | 45 00 06 04 |
| p.159 | James Graham 2 houses | 40 00 05 07 2 |
| p.189 | James Graham 2 houses | 30 00 04 04 2 |
| p.201 | James Graham house | 50 00 07 03 2/4 |
Abstracts of Wills Vol II 1708-1728
Page 65.
At a meeting of the Deputy mayor and Aldermen at the City Hall, the 21 day of July, 1682. Present Mr. William Beekman, Deputy mayor. Mr. Johanes Van Brugh, Mr. Thomas Lewis, Mr. Peter Jacobse, Aldermen. The occasion of this meeting was about the examination of Captain JARVIS BAXTER, who the last night, being the 20th instant, stabbed with a Rapier, Mr. James Graham, one of the Aldermen of this city in the Body, by which he is dangerously wounded.
HANS KIERSTEDE and HARMANUS WESSELLS, Chirurgeons, who have searched and dressed the said Graham, being sworne and examined declare, that on the right side, a little under the collar bone, tending downward, the said Graham is wounded with a Sword, about four inches deep, through the mussells and tendons to the Breast bone, which wound they doe not apprehend to be mortall, but hope with God's blessing may be cured.
CAPTAIN BAXTER appearing, was charged to have wounded Mr. Graham, which says he is sorry for, and as greate a stranger to the action as they that ask the Question. Says he had no quarrell with Mr. Graham, nor any malice or prejudice to him, and was a stranger to him, and saw him not till yesterday. THOMAS SHARPE sworn, sayeth he was in company the last night with Mr. Graham, Captain Baxter, himself and others. Saw noe Quarrell, nor unkindness pass between Mr. Graham and Captain Baxter, but that after the Reckoning was payed, Captain Baxter and Mr. Graham went aside from the Company, and presently Mr. Graham sayd he was wounded, but did not see Captain Baxter draw his sword.
DIRCK VAN CLIFF, Sworn, Sayeth, that Captain Baxter, Mr. Graham, Mr. Sharpe, West, and others, were at his house in the Orchard last night, Drinking a glasse of Cyder and Wine, and some healths were drunk and Mr. Graham and Mr. Baxter discoursed together friendly, and went aside from the Company, as he thought, to discourse in private, and in a short time Mr. Graham told him he was wounded, and bid him send for the Doctor and Neighbours, but did not see Captain Baxter draw his sword.
JOHN WEST, upon Oath, Declares that he hath often heard Mr. Graham desirous to drink a glass of wine and to pay his respects to Captain Baxter, who, he understood, was come over to America under his Royal Highness, and that an opportunity presenting yesterday in the afternoon, it was embraced, and they with Mr. Kingsland, Ensign Sharpe, the said West, and Serjeant Garret, went to the house of Mr. Van Cliff, where they spent the afternoon drinking Syder and wine, in friendship without any Quarell or dispute or angry expression, but the contrary, and that in the evening about nine of the clock as neare as he can guess, the Reckoning being payd, without any provocation, the said Captain Baxter desired Mr. Graham to walk aside, which he did, a little from the Company, but in their sight. Only Kingsland was afore gone, and Baxter, seeming to kiss said Graham, drew his Sword and stabbed him in the Body, and made another pass at him which was put by, by a cane said Graham had in his hand. The said West seeing the same stepped in and with a push he gave said Baxter on the Breast, threw him on his back, and his Sword flew out of his hand, which said West carried into the house and secured.
The Magistrates demanded Security of Captain Baxter to be forthcoming to abide his tryall if the said Graham shall dye of his wounds within the time by Law prescribed.
Captain Brockholls, Commander-in-Chief, being present, engages to see him forthcoming accordingly.
[NOTE.--The above Document is given in full. Nothing more seems to have come of this curious episode. Mr. James Graham recovered from his wound, and died at an advanced age in Morrisania.--W. S. P.]


ISABELLA GRAHAM (1673 - 1752))
Lewis Morris, on November 3, 1691, married Isabella, daughter of James Graham, attorney-general of the province of New York, and established a home at "Tintern" (later corrupted to "Tinton"), NJ, named in honor of the ancestral home of the Morrises in Monmouthshire.



CHARLES KINNAIRD GRAHAM (1824-1889)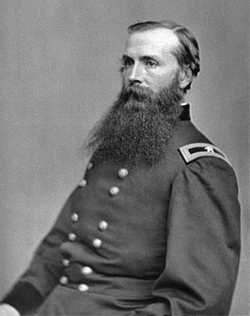 When the Civil War broke out, Mexican War naval veteran Charles K. Graham was both a lawyer and engineer. The New York native helped plan that city's Central Park and then worked at the Brooklyn Navy Yard.

At the start of the war he enlisted in a regiment that was largely composed of fellow navy yard workers and became part of the Excelsior Brigade of General Daniels E. Sickles. His assignments included:
Colonel - 74th, New York (May 26, 1861)
Colonel - 74th New York (reappointment May 26, 1861, following April 10 resignation)
Brigadier General - USV (November 29, 1862)
Commanding - 2nd Brigade, 2nd Division, 3rd Corps, Army of the Potomac (February-March 1863)
Commanding - 1st Brigade, 1st Division, 3rd Corps, Army of the Potomac (March-May 14 and June 20-July 2, 1863)
Commanding - Naval Brigade, Army of the James (April 28, 1864-February 17, 1865)
Commanding - Infantry Division, Defenses of Bermuda Hundred, Army of the James (February 17-March 19, 1865)
On the Peninsula he was at Yorktown, Seven Pines and Seven Days. For health reasons he was then assigned to recruiting duty in New York. Returning to duty in the field early in 1863, he led a brigade at Chancellorsville and succeeded to temporary command of the division there.

In the debacle at the Peace Orchard on the second day at Gettsburg he again took over command of the division and was soon wounded and captured. Exchanged in September, he was assigned to duty with the Army of the James the next spring. His subsequent services were primarily in the inactive areas.

Brevetted major general for the war, he was mustered out on August 24, 1865. Returning to engineering he was concerned for over a decade with maritime affairs in New York Harbor.
Who Was Who in the Union p. 158-9

Manuscript Collection at Gettysburg National Park Library 1865. Excerpt: General Graham's service at Gettysburg. Graham's account of the fight in the Peach Orchard. Account of his capture and transport to Richmond. Good account of his wounding and capture. 3 pp.