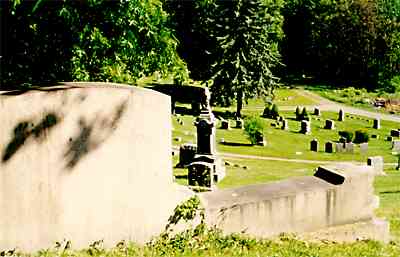 The Grave of Brig.Gen. Henry Lawrence Burnett



-- SUNDAY RECORD

November 11, 1990

MARY TROY, Record Correspondent --
GOSHEN NY -- When Charles Munster visited his relatives graves in Slate Hill Cemetery as a boy, he found them by looking for a majestic monument that seemed to reign over the plots below.
The name "Burnett" was chiseled in the stone, which bore a bronze plaque. The monument marks the Goshen grave of a Civil War general and lawyer who investigated the assassination of President Abraham Lincoln.
The Goshen Library has a yellowed, 49-page transcript of a report compiled by Henry Burnett, a special judge advocate, after the investigation.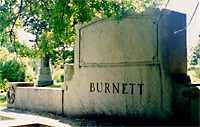 In conversational style, the soldier/lawyer recounts the sleuthing that ultimately uncovered a conspiracy.
The document makes fascinating reading, not only for the facts it contains, but for its unabashed revelation of emotions about the murder of a beloved president.
Burnett told of being summoned on April 17, 1865, from Cinncinnati by the Secretary of War Edwin Stanton to help in the investigation in Washington, D.C.
"The gloom of that journey to Washington and the feeling of vague terror and sorrow with which I traversed its streets, I cannot adequately describe and shall never forget," Burnett wrote.
He described people moving about with bowed heads and sorrowful faces. Men spoke in tremulous tones with quivering lips. Cabinet members and others in authority wore anxious expressions with a sense of determination.
The general said soldiers especially loved Lincoln, feeling as though they had a personal relationship with the president. In bursts of unbridled loyalty they were given to shouting, "We are coming, Father Abraham!" Burnett wrote that the soldiers wept like children when told "Uncle Abe" was dead.
In the document, Burnett noted that at the start of the investigation, little was known about the assassin. John Wilkes Booth was the alleged culprit and rumors were rife that he was part of a conspiracy. But authorities had little to go on at first.
What was known, he wrote, is that a tall, dark man, about 30 years old, forced his way into the president's box at Ford's Theatre and shot his victim. He stabbed another man who tried to hold him, then leaped to the stage shouting, "Sic semper tyrannis," and fled out the rear door.
An amusing note, if one is possible, told of a witness who said he heard Booth shout, "I'm sick. Send for McManus."
(What the assassin really said translates roughly to "Thus always the fate of tyrants.")
Eight accomplices were convicted in the crime. Booth, the trigger man, died in a shootout with Army and Secret Service forces on April 26, 1865, 12 days after the murder.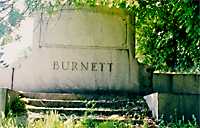 Although little is known about Burnett locally, Civil War history buffs at Pine Bush High School have gathered some information about his career.
Freshman Dan Wittenburg did some research and found that Burnett was born in Youngstown, Ohio, in 1838 and died in New York City in 1916. He was a graduate of Ohio State National Law School and served as a major in the Ohio Cavalry. [Following an injury received when his horse fell on top of him, Henry Burnett was moved from his field military position to a desk job as Judge Advocate for the Department of the Ohio. He subsequently was promoted to Colonel.] In recognition of outstanding service in the Bureau of Military Justice, the lawyer received an honorary promotion allowing him to use the title of general.
The "Dictionary of American Biography" says Burnett lived in New York City and married three times. His third wife, Agnes Suffern Tailer, was from a prominent New York family. They had a country home in Goshen called Hillside Farm where they kept a large stable of harness horses. Burnett loved to exercise the animals at the Goshen Driving Club.
In November 1915, according to the book, he contracted pneumonia at his farm in Goshen. Though critically ill, Burnett insisted upon being transported to the city, where he died two months later.
Last month, when Charles Muenster returned to the South Church Street cemetery, brush and weeds had taken over Burnett's grave. Pushing the growth aside, he discovered the neglected memorial stripped of its bronze plaque.
Muenster, a Vietnam veteran, was upset at the insult to Burnett's memory. He feels a kinship with the 19th century soldier and wants the plaque restored and the grave maintained as a local historic monument.
Muenster says a soldier who served his country as well as Henry Burnett deserved better treatment.