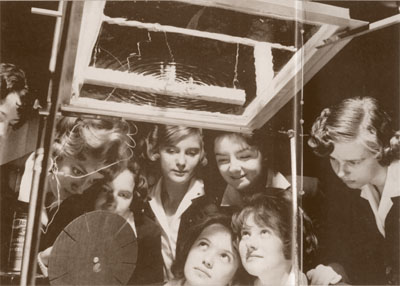 The study of wave motions in a ripple tank fascinates junior physics students (l to 4) Carol Stukel, Margaret Eastlund, Ann Leisendahl, Nanette Magnuson, Francine Fetyko, Patrice Ward, Jeanne Kuhlenberg and Romona Nowak, who soon learn that science is the observation of truth in a world of wonder.
Sophomore biologists (l to r) Carol Ross, Jackie Berrell, Pat Midaitis, Sally Vukelich, and Sue Martinson study microscopic animal life with the aid of a bioscope.
Cathy Cronin and Sue Moran study the possibility of a chemical reaction in the test tube. Is there one? If so, what?
In a freshman earth science class, Donna Ialongo holds a flashlight on a model satellite containing a solar battery which "beeps" a signal received by a transistor radio controlled by Nancy Gebhart.