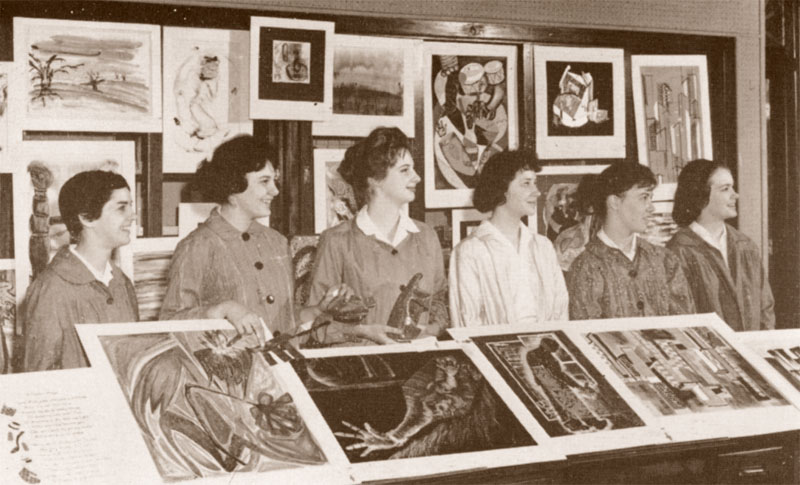 Joan French, Mary Ann Duffy, Mary Ann Szablewski, Joan Jordan, Leslie Sullivan, Karen Geary, and Diane Conlin can now say "a Gold Key is mine."
The last critique - their work assembled, these student artists have fun comparing their pieces before contest entrance.
Frances Manos, Susan Drazba, Sharon Craig, Carol Cronin, and Patricia Burdick discover the thrill, the challenge, the wonder of clay as it becomes sculpture.
Gold key winners and Blue Ribbon finalists whose projects were selected for the National Scholastic Art Competition: Pamela Cummings, Wilma Dunn, Bernadette Brown, and Diane Conlin.
Looking on while Diane Gill washes her batik painting are sophomores Susan Brooks, Noreen Casey, Patricia Leick, Carole Zavala, Joyce Cummings, Helen Quinn, Eileen O'Connor, Mary Aichele and Suzanne Farris.
Turning skill into beauty, the long practice into beautiful lettering, is the achievement of freshman art students Doris Crotty, Christine Ross, Marsha Dominiak, Kathleen Boyle, and Diane Quinn as they complete their calligraphy projects.