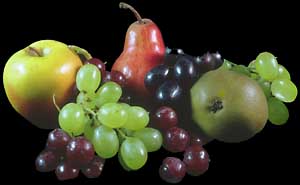 RECIPES
VEGETABLES

Mary's French Peas
| | | |
| --- | --- | --- |
| 16 | oz | frozen peas |
| 5-6 | . | lettuce leaves, shredded |
| 3 | sprigs | parsley, tied together |
| 1/2 | teaspoon | salt |
| 1 | pinch | sugar |
| 3 | tablespoons | butter |
| 1/4 | cup | water |
| 1 | teaspoon | flour |
In saucepan, combine peas, onions, lettuce, parsley, salt, sugar and 2 of the tablespoons of butter. Mix and add water.

Cover closely, cook over medium heat until all but a little moisture evaporates.

Cream together remaining butter and flour. Add to liquid in pan and shake pan with circular motion to mix (using a utensil breaks the peas). When the liquid has thickened and returned to boil, remove pan from heat. Remove parsley and serve.


Recipes






NJ Governor
Lewis Morris




Breese Family




Night Before Xmas
Henry Livingston




Lincoln Trial
Judge Advocate
Henry L. Burnett




Father
Bradley Van Deusen



George W. Bush



Copyright © 2002, Mary S. Van Deusen