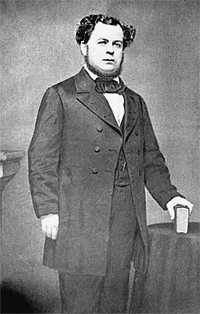 Stephen Russell Mallory, a Senator from Florida, was born in Trinidad, West Indies, about 1813. He immigrated to the United States with his parents, who settled in Key West, Florida in 1820, and attended schools in Mobile Bay, and Nazareth, Pennsylvania.
In 1833, Mallory was appointed by President Andrew Jackson customs inspector at Key West. After studying law, he was admitted to the bar in 1840 and practiced in Key West. From 1837-1845, he was county judge of Monroe County.
After serving as collector of the port of Key West in 1845 and serving in the Seminole War, Mallory was elected to the United States Senate as a Democrat in 1851, reelected in 1857 and served from March 4, 1851, until his retirement on January 21, 1861, when Florida seceded.
With his expertise on marine issues and experience in the Senate Committee on Naval Affairs, Senator Russell was made Secretary of the Navy of the Confederacy.
At the close of the Civil War he was imprisoned and when he was released settled first in Lagrange, Troup County, Georgia, and then Pensacola, Florida, where he worked as a lawyer. He died in Pensacola, Florida, November 9 1873 and was interred in St. Michael's Cemetery.
[United States Congress. Biographical Directory of the United States Congress, 1774-1989. Washington, D.C.: U.S. Government Printing Office, 1989, pp. Spccoll Reference JK1010.A5 1989]