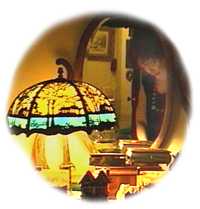 Other favorites?
Stained glass. Windows, lamps and kaleidescopes that take the light and transmute it - all the colors of the earth made radiant as the promise of Heaven itself.
I love gardening, indoors and out, especially the water garden in my new fishpond. In fact, I have a "lemonade" garden. We are told to take the lemons of our life and make lemonade. I did. To cover an unattractive wall beyond my fence, I planted bamboo. Bamboo called for a fishpond and rock formations. The rock formations called for new flowers and water plants. And the plants, of course, had to have fish. Voila. The most beautiful garden I've ever had.

Unfortunately, the racoons love my fishpond, too. Does anyone know of a way to discourage them from raiding what they consider an outdoor pantry?

I love birdwatching -- from indoors if it's winter.

I read everything, but tend to stay in genres. Some of the best new writing is going on there. Genre writers tend to be story tellers, and I love a good story.

I love New York in June, England when April's here or there -- or anywhere. I love Gershwin, Country Western and Operatic tunes, le Jazz hot and cold, classic rock and thunderstorms.

These are just a few of my favorite things.