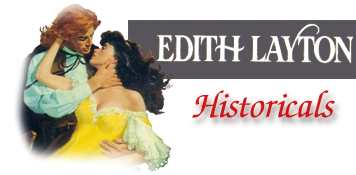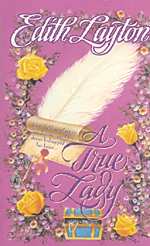 'A TRUE LADY' REVIEWS
Cathy Sova
THE ROMANCE READER
Exciting action-packed tale with a fresh, innovative story line. Colorful characters, danger, sizzling passion, and crisp dialogue add an interesting dimension to the smooth and well-written tale. You'll definitely know who is a true lady at the end. A pleasure to read.




Kristina Wright
The Literary Times
Charming! Edith Layton writes a marvelous tale! A True Lady is truly special. Fast-paced and humorous, it carries you along on a whirlwind of emotion. Romantic! A wonderful "opposites attract" love story. Ms. Layton delights her readers once again with characters that are larger than life. Fans of Edith Layton will be thrilled with her newest story. A most memorable tale!




Affaire de Coeur
An action-packed, exciting Georgian romance. Christobel is a great lady, and Magnus... is a classic English hunk. The supporting cast is all first-rate as they add spice to the tale. Fans of the genre will enjoy the reading experience.




Manderley

Very funny, touching, and highly recommended.




Helen Holzer
Atlanta Journal
Delightful...Great plot twists...I want to meet the hero! He's handsome, witty, and the epitome of a romantic lead.