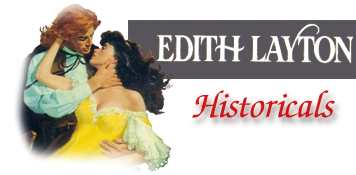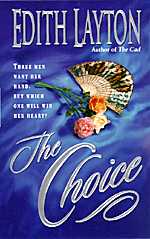 'THE CHOICE' REVIEWS
PUBLISHER'S WEEKLY
August 1999
One of romance's most gifted authors, Layton (The Cad) here tells the story of the ethereally beautiful Gilly Giles, desired by many but deemed unmarriageable because she has neither fortune nor family (although she is, mysteriously, a nobleman's ward). When the malevolent rake Dearborne, seeking vengeance because GIlly has spurned him, announces to a crowded ball that he has seen her in a strange man's arms, Damon Ryder, newly returned from making his fortune in America, preserves Gilly's fragile reputation. Thinking quickly, Damon claims that he and Gilly are engaged; they must maintain the farce at least through the social season. During this time, Damon falls in love, and Gilly blossoms into full womanhood. Alas, two other men complicate affairs. One is the nobleman whom Gilly thinks she loves, the other a libertine eager to take advantage of her confused emotions. This is a top-notch Regency, told with flair and fraught with sexual tension.




Mary Jo Putney
Amazon.com
Edith Layton writes pure enchantment. In The Choice, she creates two marvelous characters, Gilly and Damon, whose rare truth and honesty create a beautifully nuanced relationship. This is a book to read when your spirits need refreshing.




Patricia Rice
author of Blue Clouds
Amazon.com
The Choice brims with Edith's delicious wit and heart-warming characters. Gillian, the delightful misfit, is sure to charm her way into every reader's heart.




Joan Wolf
author of No Dark Place
Amazon.com
I simply love this book. Two thumbs up!




Harriet Klausner
Under the Covers
The youngest son of a powerful nobleman, his parents and siblings pampered Damon Ryder until one day he decided to prove to himself he can succeed without any help. He journeyed to America where he made a fortune as a businessman. After two years overseas, Damon returns home, seeking a spouse and ultimately a family.
At a ball, he observes Gillian Giles beat up notorious rake Lord Dearborne in the nearby gardens. Dearborne claims to his peers that he interceded when Damon made illicit advances on Gilly, a ward of the dangerous Viscount Sinclair. Damon protects Gilly's protection by claiming to be her fiance. As he escorts Gilly about the town, he falls in love. However, Gilly believes that her common blood is not good enough for an aristocrat. Another problem is that she still loves somebody else.
Regency fans that choose an Edith Layton novel know they are in for an entertaining tale. Ms. Layton's latest novel THE CHOICE is a wonderful sequel to the poignant THE CAD. The story line is intriguing as Gilly represents a different type of lady then normally graces a historical romance. Damon is a warm hunk, who will garner much accolades and wishful desires by readers. Ms. Layton scores big time with a winning novel.




Marilyn Heyman
Under the Covers
Damon had made his fortune and was now looking for a wife. He was considered the catch of the season. One look at Gilly and he was smitten. But why did she insist that she was ineligible?
Gilly had come out into the garden with Lord Dearborne because he told her that there was an injured dog needing attention. Damon was outside enjoying a cheroot and the cool night air when he saw them. When Lord Dearborne tried to take advantage of Gilly, she was able to protect herself. Lord Dearborne looked quite the worse for wear when he stumbled into the ball and told everyone that he had been trying to protect Gilly from Damon and that Damon had attacked him. What could Damon do put protest and tell the avid listeners that he and Gilly had known each other for quite some time and that she had accepted his proposal of marriage.
Gilly is the ward of Bridget and Ewen Sinclair, our old friends from Edith Layton's THE CAD. Damon and Gilly make the rounds of balls, rides in the park, etc., to validate their "engagement." Damon hopes to make it real but Gilly, as much as she wants Damon as a friend, is eager to break off the engagement. Damon is very persevering.
"He mightn't be what she wanted, she thought as she willingly went back into the warm shelter of his arms and offered up her mouth to his again. But the man she did want was right again, as usual. Because she had done well for herself, and had gotten more than she'd expected, or deserved."
Gilly had always been in love with Lord Drummond but he only saw her as a child and a friend. When Drum returns to town, things really liven up! Gilly affects the lives of three men and must make THE CHOICE.
Another wonderful book by Edith Layton - a follow-up of The Cad. Gilly is a charming and unusual woman that sparkles with life. Damon is a charmer and a thorough gentleman and Drum is fascinating. I can picture Damon being nominated for the hero of the year (if there is such a category) for his strength, kindness, his strong character and his even stronger love for Gilly. The story keeps the reader enthralled, loving every word. What I especially enjoyed, aside from the wonderful hero and heroine, were the secondary characters. They were fleshed out, good and bad, and all fascinating in their own right. If you enjoyed reading THE CAD, you will love this one as well. More kudos to Ms Layton.