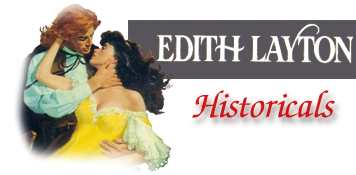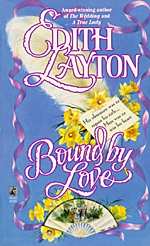 'BOUND BY LOVE' REVIEWS
Mary Jayne Farpella
Affaire de Coeur
Edith Layton is a master at creating wonderful romances...




Rickey R. Mallory
Affaire de Coeur
Four and a Half Stars
...The love story of Della and Jared is sweet and simple, like the best faerie tales. Edith Layton has a skillful touch with writing. Her characters insinuate themselves into the readers' consciousness like true friends, and her description and plotting are nearly impeccable. Bound by Love will make you remember why you love romance.




Michall Phifer
Romantic Times
August, 1996
Excellent
...Bound by Love has many plot twists that will keep the reader guessing at what will happen next. The poignant characters and their situations are particularly well drawn. The hero's tragic childhood makes the resilient man very appealing. This reader hopes that Ms. Layton's next novel with feature the younger brother.




Joan Wolf
author of No Dark Place
Amazon.com
I simply love this book. Two thumbs up!




Kristina Wright
The Literary Times
...In this heart warming tale, Edith Layton creates a hero that is handsome, yet scarred; strong, yet vulnerable. Jared is a man without a name and Della is his savior, even if he doesn't realize it. Their love story is poignant and special, all the more so because Ms. Layton shows them as children growing up in a new world and finding their way together. Bound by Love is a lovely tribute to the power of love and the importance of friendship and family.
"A richly textured novel of the highest quality! Edith Layton has penned a romance that will touch your heart!"
Edith Layton is a unique voice in romantic fiction! Bound by Love is is her finest work... so far!"
"Entertaining and emotionally compelling! Fast paced plotting, flawless dialog, well-rounded characters and a love so powerful it will take your breath away -- what more could a reader want?"