The Art of Romance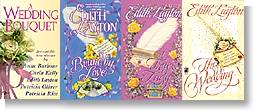 I have been SO fortunate in the artists who have illustrated my books. Yes, I've heard the horror stories. No, they haven't happened to me. Lucky, yes.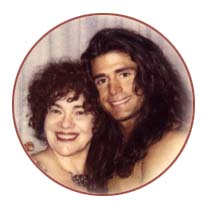 Posing with a Real Life
Cover Hero!
The gifted artists who gifted me with great covers?




Harper Collins has been very, very good to me. They have produced lovely, evocative covers for each of my "C-series". This was no small feat, considering I never planned a series when I started.




Jim Griffin

The subtle depiction of a top hat, gloves and cane, evokes the idea of a "Man About Town." I love the dangerous feeling to this cover.

I was delighted with the symbolism of the three roses, each a different color, referring to my heroine's three loves. What a clever way to illustrate her delicious dilemna.




John Ennis

Lush green ivy - love in a sunlight garden. This cover went right to this gardener's heart.




Paul Stimson and Andy Bacha

People talk about purple prose, but lovers in a locket against a purple field? Elegance, as well as passion!




Paul Stimson and Derek James

This bold, lipstick-red cover shocked and delighted me. Contrasted with a couple in an antique frame, it's ravishing.







Allan Kass


ALLAN KASS did all my Regency covers - save one.






Walter Popp


That one, LORD OF DISHONOR, was done by Walter Popp.






Allan Kass


Allan Kass also did all but two of the short story collections. DASHING & DANGEROUS is by Pino. Mr. Kass's Regency gentlemen are long limbed and languid, absolute paragons of Regency style and grace. His heroines are quite literally, lovely. I fell in love the way with the way he pictured Jason, Duke of Torquay, my very first hero.

And I am still in love with his beautiful covers.






Richard Newton


The other short story collection cover is exquisitely done by Richard Newton for A DREAMSPUN CHRISTMAS.






Robert Maguire


ROBERT MAGUIRE did THE FIREFLOWER. It ravished me then, it does still.

That IS Gideon Hawke you see there. I don't know how Mr. Maguire did it, but he saw the same man I did. He also captured the drama and feeling of the Great Fire, and all the romance between Gideon and Mary Monk. Bravo!






Pino Daeni


PINO did the LOVE trilogy. I particularly loved his portrayal of my gentle but terrifying giant Lion and his Francesca for THE GAME OF LOVE. Pino also did an electrifying CRIMSON CROWN. That is very much my bitter blond hero Lucas Lovat on the cover, and the high drama of the book is accentuated by the parted crimson curtain. Speaking of drama and curtains, Pino also captured the essence of theater for THE GILDED CAGE and SILVERY MOON.

Writers get to sign autographs. Do artists ever get applause?

They do now.

Thank you. Gentlemen, please take a bow.








Edith Layton's Writings in Her Old Site
1997