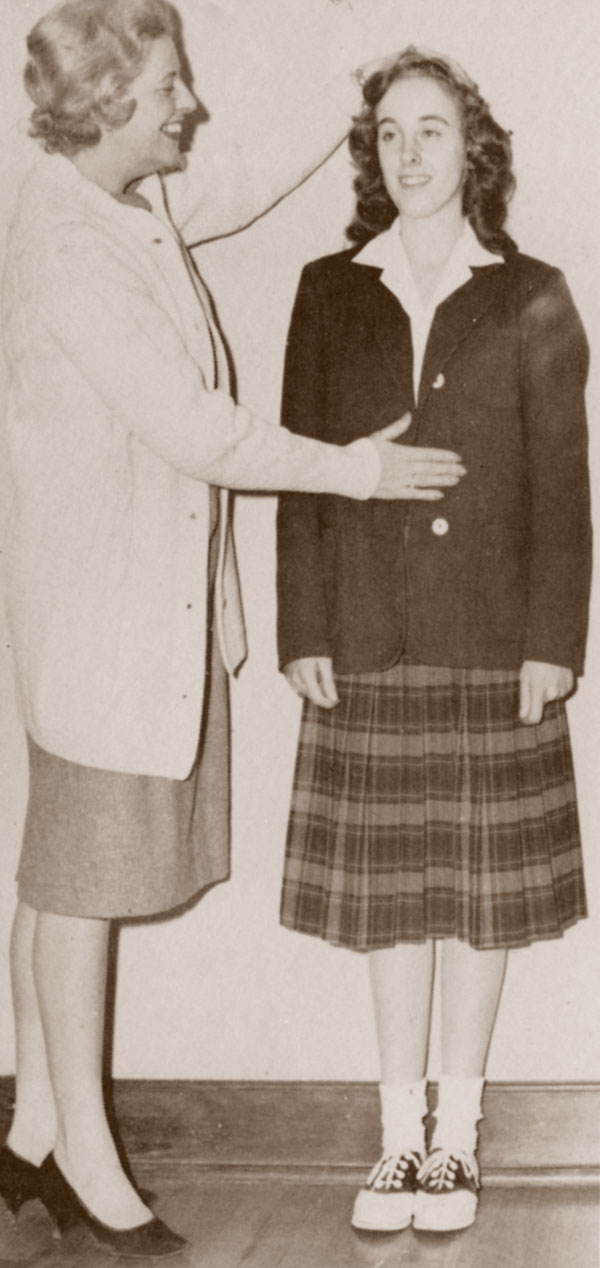 Miss Ann Culkins measures Pam Kenny up to a correct posture during a four day personality course. Miss Culkins is a familiar personality to the students who find her course in Christian culture timely, interesting and most helpful.
When Aquinites hear of a solo drama of "Pygmalion" they will think of Mary Louise Hickey. Miss Hickey renews acquaintances with Nanci Dunn, Maggie Kolb and Judy Gaffney backstage before her performance.
During National Newspaper week, Chicago Tribune's Miss Genevieve Flavin gave an "inside story" of the life of a woman reporter. A celebration followed with press editors Cathy Cahill, Eileen O'Connor and Cathie Black.
Father Morgan Barnes, O. Carm. of Mt. Carmel High School pacifies the speakers for the St. Thomas Symposium - Pat Cronin, Kathy Lusk and Joan Donovan - before their presentations. Pat represented Aquinas at the Fenwick eliminations.
Keynote speaker for the annual College Day Program was Father David Murphy, O. Carm. who stressed with the seniors the importance of fchoosing the right college.
The annual three-day retreat was conducted by Father John Brown (junior-senior conferences) and Father Mathias Fischer (sophomore-freshman conferences.