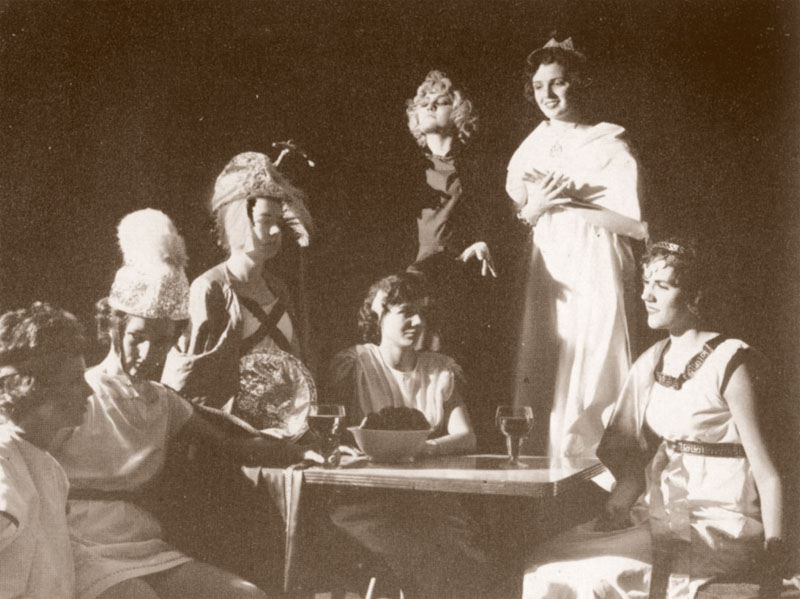 The Aeneid is relived as D'do (Rosemary Prow), and her sister Anna (Sharon Powell) entertain Aeneas (Rita McDonough), and his faithful shadow, Achates (Mary Ann Blanchfield), while his beautiful mother, Venus (Nancy Smith), Cupid (Hally O'Hara), and disapproving Juno (Eve Friend) watch.
Halley O'Hara and Rosemary Prow caught at a moment in a Roman setting.
"Hail, we cheer thee!" Latin students learn the feeling of the Roman mob as they hail their own orator.
En francais "Nous Chantons." Elizabeth Downey, Kathleen Quinn, Patricia O'Rourke, Ellen Jane Dubach, Yvonne Cesar, Janet Rohwedder, Geraldine Van De Velde, Mary Ellen Thavis, Veronica Horan and Susan Harney.
"An American in Paris." Halley O'Hara, is greeted by French II students: Janet Marcordes, Donna Clutterbuck, Karen Krug, Kathleen Corley, Kathleen McGowan.