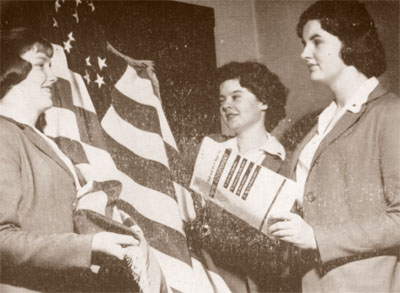 Our flag, the symbol and story of American History, is studied by Margaret Ford, Virginia Duffy, and Diana McLean.
Evelyn Lukas and Sally Durkin go around the world with a history book.
Sharon Mooney discusses the building of the German empire with Mary Maher, Diane Raddatz, Gina Dillon, Louis Koval.
Retracing the signing of the Declaration of Independence are these students: Mary Colette Moore, Mary Galligan, Kathleen McGowan, Diane McLean and Susan Proper.
Oh, what work a term paper! Absorbed in references, bibliographies, and footnotes are Joanne Pilat, Ruth Bedore, and Barbara Modzikowski.
We become the Grecian goddess, the lady of a castle in Spain, or a little maiden in far away Japan, as we relive World Literature. Sharon Craig, Margaret Lowry, Mary Claire Hartmann, Elizabeth Mantia.