Steps to prevent the evils of alcoholism are suggested in> the Social Problems class of seniors Patricia Kluctgen, Sheila Hughes, Carole Harris, Joan Hodgson, Consuela Lambert, Beth McCabe, and Irene Lowry.
Joanne Pilat, Linda Esping, Marilyn Morelli, Jean O'Brien, and Carole Conway agree that the 5 Great Encyclicals offer a solid democratic program for social action.
Mayor Richard Daley with a model of the Chicago of the future.
Rita Brennan examines a dollar bill to find out if it is counterfeit, while Julie Stauffer, Loretta Murphy, and Donna Clutterbuck look on.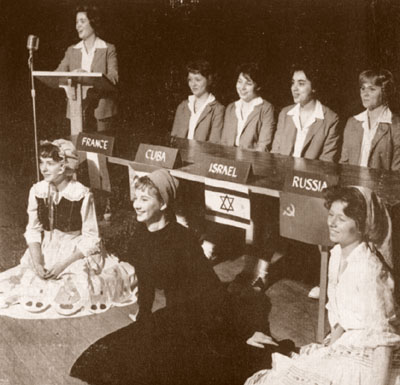 Seniors: Carol Cronin, Kathleen McCartin, Kathleen McGowan,

Thais Alexander, Karen Biety, Sheila O'Connell, Joan Jordon and Mary Moran present a program on the brotherhood of man, which includes speech, song and dance.