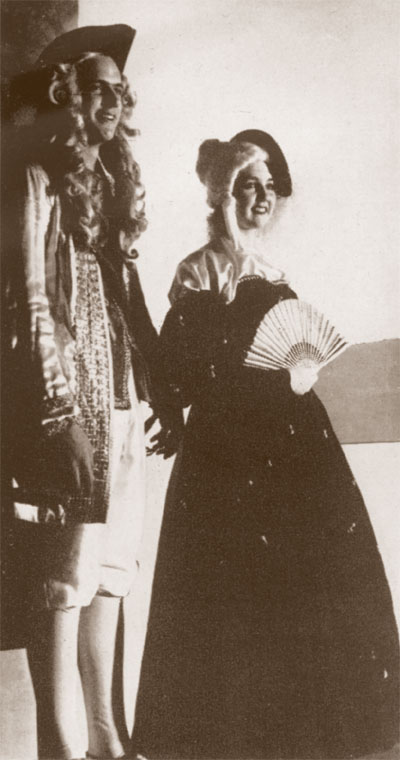 Duke and Duchess Kathleen Sinnott and Michael Johnson.
ENCORE and all merry Gondoliers assemble to take their bow.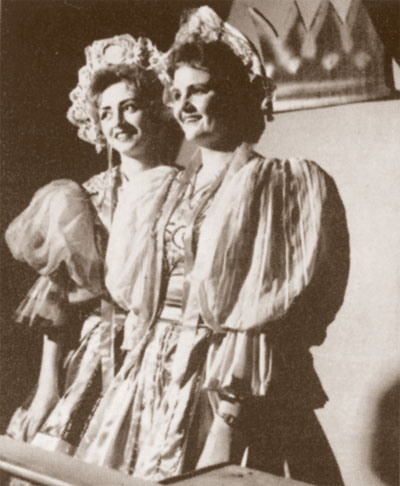 Barbara Kuenn and Janice Hatfield are two contadinas who seem to be happy. Why? They are waiting for their "gay and gallant Gondolieri."
"Now a gavotte performed sedately," is a timely lesson for the two Gondoliers, Joel Bachorz and Michael Walsh and their brides, Janice Hatfield and Barbara Kuenn. The Teacher? Petite and Charming Delphine Medzydlo!
Janet Green, accompanist for the Operetta, and Edwin Barrett take a polishing during final rehearsal.
Some off-camera antics proved to be funny to Sheila O'Connell, Mary Jo Ransford, Ed Barrett and Elissa Matushek.
Patricia Gallagher, the foster mother announced Eugene Brady the rightful king, to the consternation of the Mayor, Jim Vlaming.
"AH, RAPTURO" Luiz (Eugene Brady) and Caselda) (Delphine Mezydlo) strike a royal pose.
Mr. Harvey Londa, the director, takes time out for a costume briefing with a group of actors.