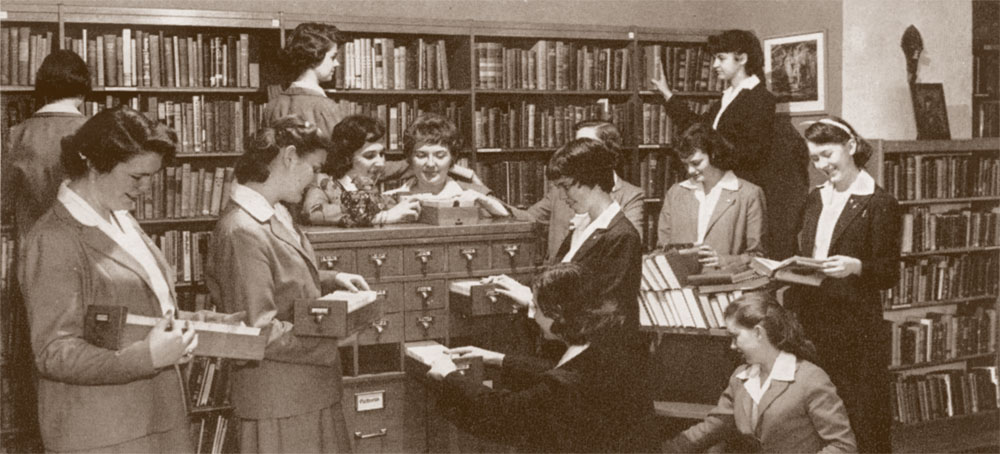 THE AQUINAS LIBRARY COMMITTEE AID the librarian in hundreds of ways, and in so doing learn much of library science themselves.

Members of the Library Club are: Juliann Flynn, Nanci Dunn, Therese Fisher, Anne Keane, Mary Van Deusen, Mary Ann Murray, Mary Joslyn, Patricia Kolofer, Marjorie Sheehan, Connie Lambert, Joanne Pilat, Pamela Bleski and Mary Ellen Leitelt.
CIRCLED AROUND ONE OF THE TAQUIN EDITORS. Delphine Medzydlo, the yearbook staff, reading books from other exchange schools. Helen Cahill is the other Editor.
The Math Club, Mu Alpha Theta, of national import enlisted six Aquinas mathematicians. With Mary T. Anglim as President as leader, Mary Gilligan, Marita Reilley, Mary Ann Blanchfield, Mary Colette Moore and Karen Gralewski here look over the latest books from the traveling library.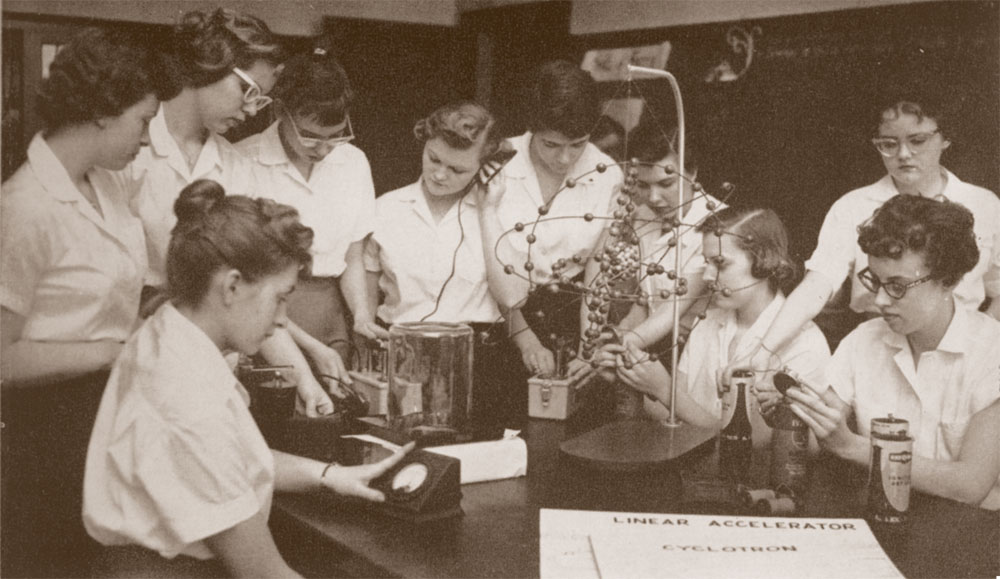 The PHYSICS CLUB try out electrical devices to measure electrical force. They are: President Marie de Groh, Mary Therese Anglim, Vice President, Ann Marie Bridge, Recording Secretary; Pat Benson, Corr. Secretary; Dolores Leahy, Treasurer; Barbara Modzikowski, Mary C. Moore, Barbara Mahoney, Paula Fitzmaurice, Nancy Chaple, Rita McDonough, Irene Lowry, Terry Benson and Rita Duffy.
Members of the Dramatic Art Club enacted a very successful play, THE PRUNE TREE, in which three members received Scholarships to Dramatic Schools or medals of distinction. They are: Este Michalak, Mary Ellen Spain, Sue Maher, Eve Friend, Karen Biety and Paula Fitzmaurice.
The JUNIOR DEBATE CLUB, assume Positive and Negative sides on the controversial question, "WHICH SYSTEM OF EDUCATION IS THE BETTER: THE BRITISH OR THE AMERICAN?" The chairman of the Debate is Jean Werner.
Advanced Debaters, lost in the stacks of the Aquinas library, seem to enjoy the pleasure: Judy Zielinski, Marita Reilly, Sue Sachtleben, Mary Therese Anglim and Dolores Leahy.
The ever faithful stage crew are performing again: Janice Koss, Mary Therese Anglim, Mary Fries, Karen Morley, Dolores Leahy, and a few unidentified hard workers.