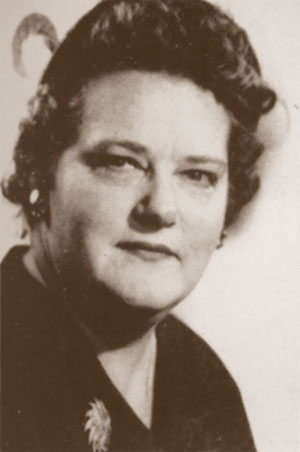 President Mrs. Robert A. Gallagher of the Aquinas Mothers' Club speaks well for her board who have made the year 1959, a profitable and pleasant one. They are: VICE PRESIDENTS: Mrs. W. Popjoy, Mrs. J. Pilat, Mrs. J. Flanigan, Mrs. W Sommers, Mrs. A. Schmitt; Secretaries: Mrs. E. Reardon, Mrs. M. Marin, Mrs. P. Anderson; Treas. Mrs. F. Moran and the various chairmen and Standing Comittees of the Aquinas Mothers' Club.
THE AWUINAS ALUMNAE ASSOCIATION which is headed by President Miss Mary Chase, also charted up a very successful year. She is assisted by Vice President Gene Kurth, Treasurer Janice Larkin. Corres. Sec. Ann Codd Forst, Alice Mitchell, Recording Sec. and Lorraine Sullivan, Membership Chairman.
With trays ever ready, the Aquinas Hostesses smile through their labor: Lynn Marin, Phyllis Esposito, Claire Smith, Maureen Borsch, Audrey Novakowski, Mary Fries, Carol Harris, Sue Sachtleben, Joanne Pilat, Sheila Gilligan, Carole Osterling, Janice Koss, Rita McDonough, Rosemarie Kiefer, Mary Roach, Karen Gralewski, Cynthis Smitko and Rita Reilley.
Selling more than eight chance books in the last drive for Aquinas Fire Prevention are happy: Dixie Doody, Mary Flanigan, Leona Roberts, Marilyn Martin, Frances Kewley, Maureen Fitzgerald, Pam Webster and Cathie Black.
The lucky winners in the Drive were: Mary Jane Gilliland, Janet Marcordes and Rosemary Uhlrich.
The ever faithfuls that maintain the building of Aquinas and the school cafeteria are: ENGINEER MR. A. LEICH, Cafeteria Manager and Assistants Mrs. M. Dunmore, Mrs. Nora Nolan, Mrs. B. Hedlund, and assistants Mr. L. Hendron and Mr. J. Hendron.