Memories of Activities

Memories of Dances

Music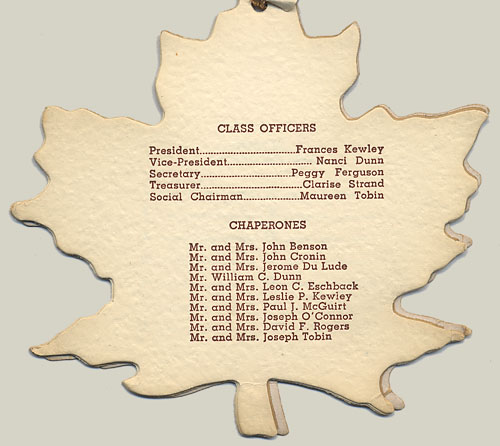 November 25, 1959
A swirl of moonbeam touched the night
As ___________________________ rang the bell,
And off we flew on a leaf so light
To our autumn carousel.
We danced in rusty ecstacy
To Saint Rita's musical spell
Then rode on star drops to _____________________
From Autumn's carousel.
As night drew up her curtain at __________________
And stardust shadows fell
We tripped a pathway homeward
While autumn sang farewell.
My "Lyric of the Leaves" memory is:
Brighter than the harvest moon

Like a flickering star

Strictly cloudy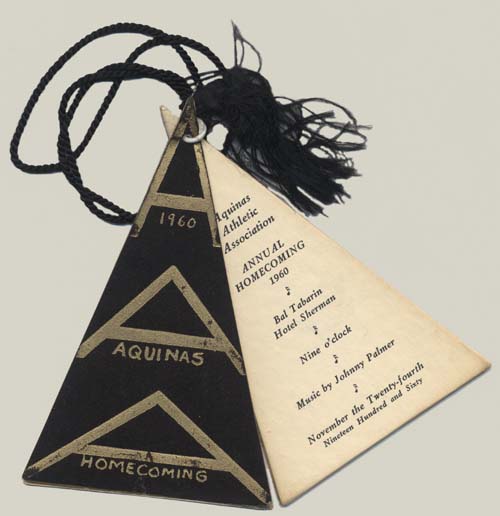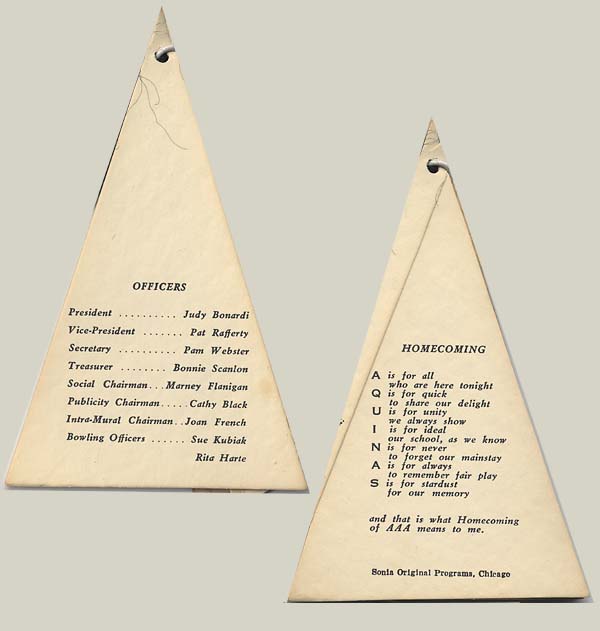 November 24, 1960
CHAPERONES
Mr. and Mrs. Dan Bonardi
Mrs. James Flanigan
Mr. and Mrs. Raymond Kubiak
Mr. and Mrs. Ralph Webster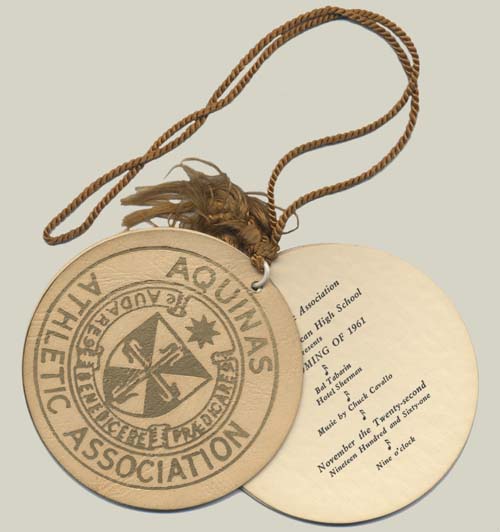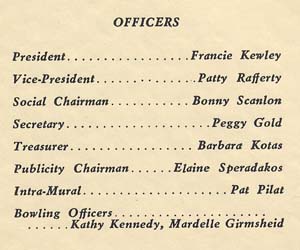 November 22, 1961
CHAPERONES
Mr. and Mrs. Leslie P. Kewley
Mr. and Mrs. John B. Rafferty
Mr. and Mrs. James V. Scanlon
Mr. and Mrs. Richard Gold
Mr. and Mrs. Joseph Pilat
Mr. and Mrs. Joseph Kotas
**********
HOMECOMING
Where is the heart that does not keep
Within its innmost store
Some fond remembrance hidden deep
Of days that are no more.
Who hasn't saved some trifling thing
More prized than all the rest--
A crumpled, faded Homecoming bid
Imprinted on that bid our Crest.
Once this crest joined us as one
With ties so strong and true
May these memories live tonight
In each and everyone of you.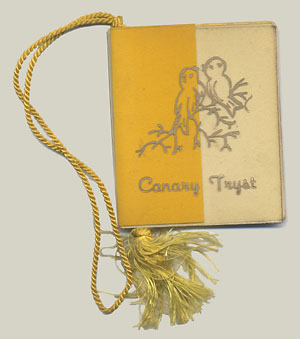 April 22, 1962
South Shore Juniorettes of Marillac
presents
CANARY TRYST

Louis XVI
Sherman Hotel

April the Twenty-second
Nineteen Hundred and Sixty-two

Music by Chuck Cavallo

Eight-thirty to Eleven-thirty


**********




CANARY TRYST

This is the night
Of our Canary Tryst
With dreamy music
We cannot resist.

All a-flutter
As dreams come true
Enchanted hours
Shared with you.

At ______ o'clock
As we unwind
Romance and memories
Remain intertwined.

Date was:

Twisted

Untwisted

Simply bent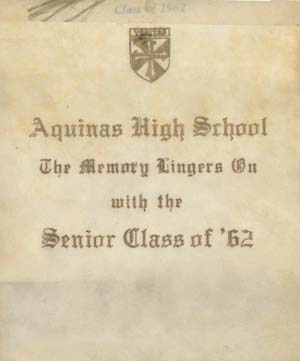 May 19, 1962
Class of 1962
of
Aquinas High School
presents
THE MEMORY LINGERS ON
Crystal Ballroom
Shoreland Hotel
May the Nineteenth
Nineteen Hundred and Sixty-two
Music by
Chuck Cavallo and His Orchestra
Nine to Twelve
**********
CLASS OFFICERS
| | |
| --- | --- |
| President | Peggy Fergeson |
| Vice-President | Clarice Strauch |
| Social Chairman | Eileen O'Connor |
| Secretary | Leslie Bloom |
| Treasurer | Jean Skoronski |
**********
CHAPERONES
Mr. and Mrs. Robert Bloom
Mr. and Mrs. Ralph Ewing
Mr. and Mrs. Joseph O'Connor
Mr. and Mrs. Edmond Skoronski
**********
THE MEMORY LINGERS ON
Tonight, a curtain closes,
And we take a final bow,
To the many years we have spent
Which are slowly ending now.
But let time stop this evening,
For just an hour or two
And we will recall the memories
That seem, right now, too few.
And gathered all together
We will not say "Goodbye"
For thoughts that will remain
With you, will never die.
One phase of life is ended,
But one day we may arrive
Assembled all together
As the class of Aquinas High.
Loretta Sieg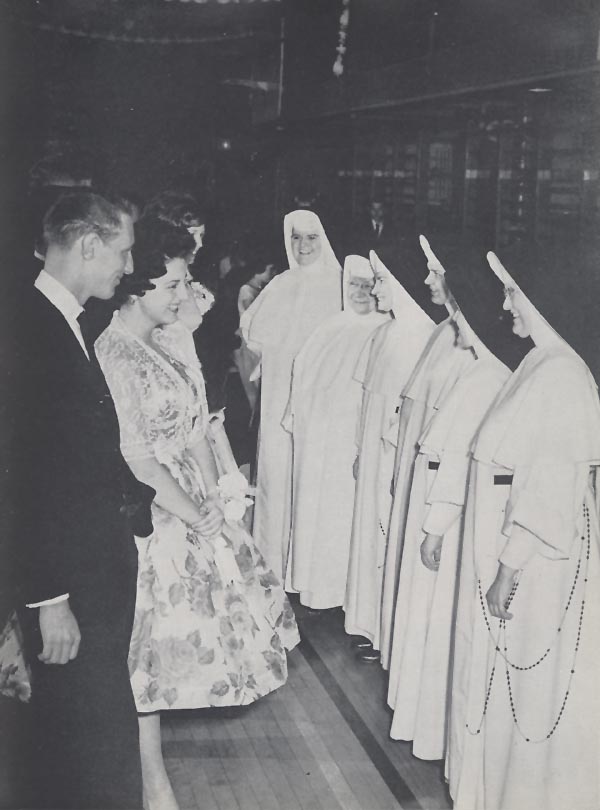 Lynn Meister (thanks, Clarice).
I remember well the floor length, white chiffon dress that I wore to "The Memory Lingers On." I just crawled through my attic and found it stuffed into a suitcase. It had floor length sashes falling from each shoulder and, as we walked along Lake Michigan, the sashes blew out behind and my date sang to me "Simple Gifts" from "Appalachian Spring." I have never before or since felt like a fairy princess, but I did for that walk.

I also remember the nuns going crazy about the dress as they were checking us for too thin straps because the dress actually had sleeves!
Mary Van Deusen, 4/25/06
Please send your memories of Aquinas dances to the Aquinas Web Mistress.

Copyright © 2006, Mary S. Van Deusen