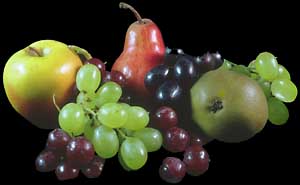 RECIPES
STUFFING

Bread Stuffing with Mushrooms and Bacon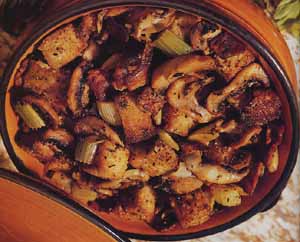 | | | |
| --- | --- | --- |
| 1 1/4 | lbs | 1/2" cubes sourdough bread, crusted trimmed (abt 12 cups) |
| 3/4 | lb | bacon (abt 12 slices), cut into 1/2" pieces |
| 3 | cups | leeks (white and pale green only) (abt 2 med), choped |
| 3 | cups | celery, chopped |
| 1 | lb | mushrooms, sliced |
| 1 1/2 | tablespoons | dried sage leaves |
| 2 | teaspoons | dried thyme |
| 1 | teaspoon | salt |
| 3/4 | teaspoon | ground black pepper |
| 2 1/2 | cups | low-salt chicken broth (or more) |
| 2 | large | eggs |
| 1 1/2 | teaspoons | baking powder |
Preheat oven to 325 degrees. Spread bread cubes on 2 baking sheets. Bake until bread cubes are dry and crisp, stirring occasionally, about 25 minutes. Transfer bread to large bowl.

Saute bacon in heavy large skillet over medium-high heat until brown and crisp. Using slotted spoon, transfer bacon to paper towels and drain. Pour off all but 1/4 cup drippings from skillet. Add chopped leeks and celery to skillet and saute until tender and beginning to brown, about 10 minutes. Add mushrooms, sage, thyme, salt and pepper and saute until tender, about 10 minutes. Pour mushroom mixture over bread cubes. Add bacon and toss to blend. Mix in 2 cups broth. (Stuffing can be prepared 1 day ahead. Cover and refrigerate.)

Preheat oven to 350 degrees. But 13x9" glass baking dish. Beat eggs and baking powder in small bowl to blend. Mix eggs into stuffing; moisten stuffing with more broth if stuffing is dry. Transfer to prepared baking dish. Bake stuffing until cooked through and golden brown on top, about 1 hour.

Serves 12.
Bon Appetit, November 1995, page 78.

Recommended with:
Turkey with Sage Butter,
Green Beans with Roasted Onions,
Corn and Wild Rice Soup with Smoked Sausage



Recipes





Copyright © 2002, Mary S. Van Deusen