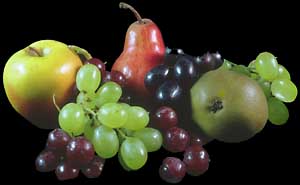 RECIPES
BEEF

Edith's Boeuf du Chine
| | | |
| --- | --- | --- |
| 1 | lb | cubed stewing beef (better cut, more tender stew) |
| 1 | can | clear beef broth |
| lots | . | pearl onions |
| 4-5 | . | carrots, cut |
| 1 | bunch | scallion tops |
| 1 | clove | garlic |
| 1/4 | cup | dark soy sauce |
| 1 | large | green pepper |
| 1/2 - 1 | cup | hearty burgundy |
| 3-4 | . | dried chinese mushrooms |
Soak mushrooms, retaining liquid.

Heat all ingredients except beef, wine and scallion tops.

Roll beef cubes in floor, saute lightly on all sides, and add to veggies and liquid. Then add wine and, lastly, scallion tops. Cook until tender.

Soy sauce and wine can be added to taste during cooking.

Magnific!


Recipes






NJ Governor
Lewis Morris




Breese Family




Night Before Xmas
Henry Livingston




Lincoln Trial
Judge Advocate
Henry L. Burnett




Father
Bradley Van Deusen



George W. Bush



Copyright © 2002, Edith Layton