By May of 1775, the revolution was heating up. Even though New York still had a Colonial Assembly, the rebellious New Yorkers started their own, separate New York government, which met in New York City. These elected delegates were primarily Patriots, rather than Loyalists, and their agenda was revolution.

In September, for example, while Henry Livingston was moving up toward Canada with General Montgomery, the group requested Washington to remove all public bells and send them to New Jersey for safekeeping. The British were looking for materials from which to cast cannons.

When the Declaration of Independence was declared, New York's Fourth Provincial Congress met in the White Plains' Courthouse on July 5th to endore it and, 4 days later, declared New York's independence. The next day, the 10th, the body changed their name to the "Convention of Representatives of the State of New York." They intended to govern New York with this Congress until they could get a fully formed government created, a task they started on quickly.

On August 1st, 1776, a committee was named to formulate a government for New York State. Abraham Yates was the chair. On the following March 12th, the committee returned to the congress with a draft of their proposal, written by John Jay. The president of the congress was then Pierre Van Cortlandt, the husband of Henry's aunt Joanna! After making changes to the document, the New York congress adopted the first New York State Constitution on April 20th, 1777. Then they stood on the steps of the Kingston Senate building and read the whole thing aloud to the people!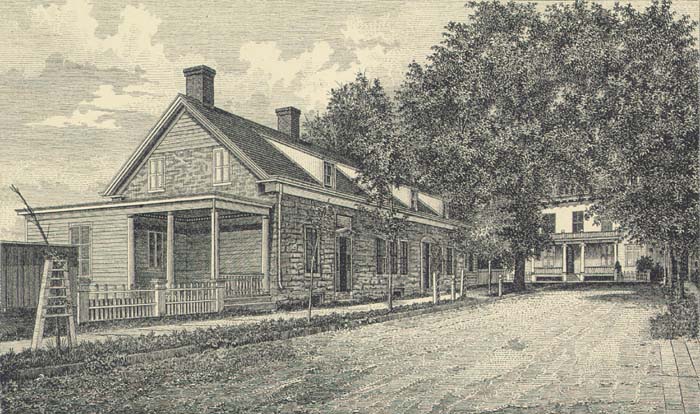 Kingston Senate Building
Under this new State Constitution, there were three branches of government: the executive branch, the judical branch and the legislative branch. The executive branch was headed by a governor. The Legislature was composed of two houses - the Senate and the Assembly. Senators were elected every four years, and members of the Assembly had to stand for election every year. Talk about never ending politics!
The rules for who could vote depended on whether you were voting for a senator or for an assemblyman. To vote for a senator, you had to have a freehold (property) that was worth 100 pounds above indebtedness. But to vote for a senator, you didn't need to be quite that well-to-do. A freehold worth 20 pounds or a rental of one for 40 shillings would qualify you as a voter, as long as you had been a county resident for six months and had paid your taxes.
In a little over a month, June of 1777, New York had elected a Governor - George Clinton, the brother of Colonel James Clinton, Henry Livingston's commander for Montgomery's expedition to Canada. George Clinton was New York Dutch, and he was connected to the Livingstons through the web of Poughkeepsie family ties. George Clinton's wife was Cornelia Tappan. Cornelia's brother, Dr. Peter Tappen, was a friend of Henry's, and was married to Elizabeth Crannell, the sister of Gilbert Livingston's wife, Catharine Crannell.
New York also elected a Lieutenant Governor, Uncle Pierre Van Cortlandt! Van Cortlandt was to serve in that office for 17 years.
xx
George Clinton
xx
Pierre Van Cortlandt
In September of 1777, the brand new New York State Legislature met in Kingston for the very first time. Among the assemblymen were Henry's 1st cousin (of his father's generation), Philip Livingston, and Henry's 2nd cousin, Robert R. Livingston, Jr. Robert had been one of the five men who had drafted the Declaration of Independence, but he never signed it since he had hurried back to New York. Philip had signed the Declaration, so it was Philip who went into the history books, though Robert did get to give the oath of office to George Washington. His other consolation prize was to become Chancellor of New York State. John Jay, Henry's 3rd cousin married to Henry's 2nd cousin, was named Chief Justice of the New York Supreme Court.
xx
Signer Philip Livingston
xx
Chancellor Robert R. Livingston, Jr.
New York now had a government that was created by the people, and elected by the people.