Family

So NY and Hudson River Valley

Beekmen of New York

From Criminal to Courtier

The Soldier in Netherlandish Art

The Dutch Language in Britain
Family
Rev. Wilhelm Baudartius
(1565, Deinze, Flanders)
(1640, Zutphen, Gelderland, Netherlands)
+ Barbara Martens
(1570)
(1612, Zutphen, Gelderland, Netherlands)


Children:
Mary Baudertius (1600-1630) m. Henry Beekman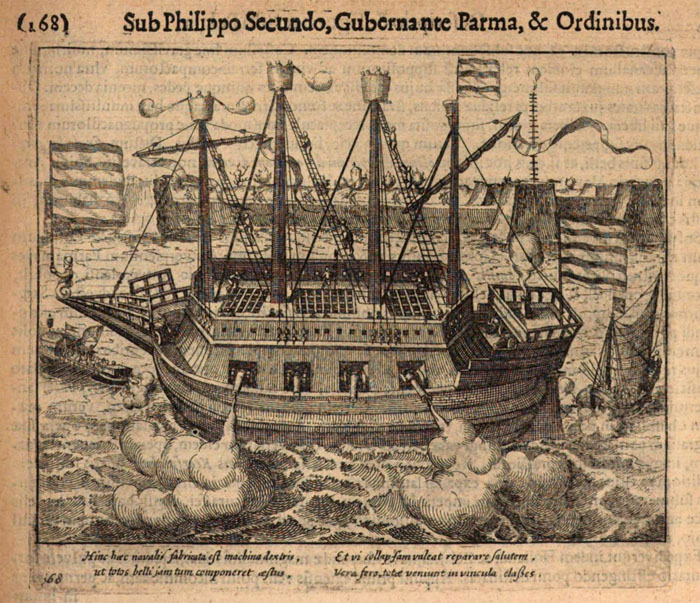 The Beekmans of New York, 1647-1877 Philip L. White, p.9
Four years before William Beekman's birth Baudartius had been a leading figure at the famous Synod of Dort. In effect the Synod formalized and promulgated the religious views of the Protestant faction which had at last emerged victorious in a long political contest. The defeated party, representative largely of the commercial centers, had urged rigorous separation of church and state, tolerance of religious differences, and a liberal view of the requisites for salvation. It had also favored peace with Spain and the preservation of decentralized, merchant-dominated government. The victorious party, representative in considerable measure of the exposed frontier provinces and of the huge refugee population, insisted on close cooperation of church and state, the narrow predestinarian doctrine of salvation usually associated with Calvinism, and suppression of any form of heresy. The political policies linked with these doctrines were vigorous prosecution of the war against Spain for control of the southern provinces (later Blegium) and a more centralized government with greater popular participation. At the conclusion of the Synod the leader of the opposition party was tried for his earlier conduct, now found to be heretical, and executed.

Baudartius, as his participation in the Synod of Dort suggests, enjoyed considerable stature as an intellectual leader. At the Synod he had participated not only in the formulation of the doctrines of the Dutch Reformed Church, but also in prescribing its forms of worship. Furthermore, he was one of the handful of scholars selected to make the authorized translation of the Bible into Dutch.

In 1632 when the Old Testament translation was completed after many years of effort, it was immediately acclaimed on all sides and has been employed ever since. In addition to this scholarly activity William Baudartius also published some poems and a highly partisan chronicle of Dutch history from 1603 to 1624, one of the earliest scholarly works to be published in Dutch. He also left an autobiography which remains unpublished.
From Criminal to Courtier: The Soldier in Netherlandish Art 1550-1672, David Kunzle, 2002, p14

Wilhelm Baudartius' [Spaensche Tiranye diendende tot een] Morghemwecker der vrye Nederlantsche Provintien (Spanish Tyranny serving as an alarum for the free Netherlandish provinces, sixteen editions 1610-50), was written to "cause revulsion against the Spaniards; and the Nassausche Oorloghen (Wars of Nasssau, many editions 1612-19) with over 280 illustrations is virtually a picture book, with an accent on righteous battles.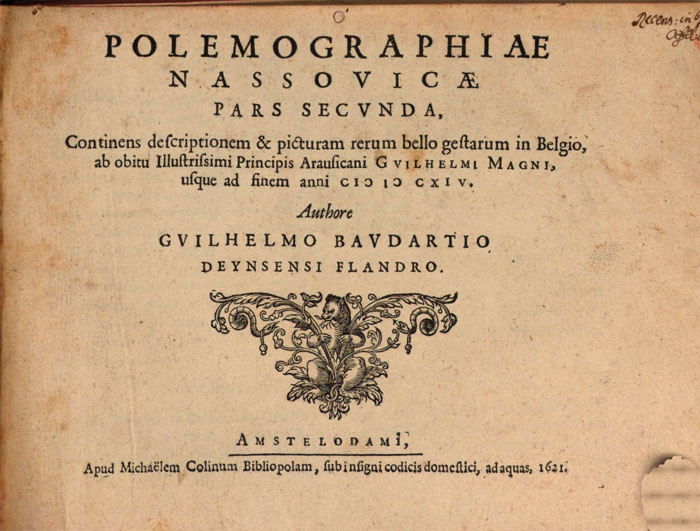 Genealogies of New Jersey Families, 1996
Wilhelmus Baudartius (1565-1640), the maternal grandfather of Wilhelmus Beeckman, the New Netherlander, was a student under these two professors [David Pareus was Professor of Theology at Heydelberg University from 1573 until his death. His colleague from 1589 to 1596 was Jacobus Kimmedonck] at Heydelberg from 1591 till 1593. He had previously studied under Kimmedonck from 1578 till 1584 at Ghent University. When in 1585, after the fall of Ghent and Antwerp before the Spanish army under Parma, Baudartius moved to Leyden, in Holland, where his sister Johanna lived, Kimmedonck, then minister at Middleburg, in Zeeland, gave him an introduction to the Church of Leyden. ... The renowned Dutch Bible translation, begun in 1587 by a Commission of which Jacobus Kimmedonck, Sr., was a member, was later completed chiefly under the guidance of Wilhelmus Baudartius.
The Dutch Language in Britain (1550-1702), Christopher Joby, 2015, p183
One child of Dutch Strangers in Sandwich, who would later give us a small insight into his education, is Willem Baudaert (Wilhelmus Baudartius) (1565-1640). He was born in Deinze in Flanders, but grew up in Sandwich speaking both Dutch and French at home, and learnt English playing with local children on the street. He went to the French school in Canterbury run by Paul le Pipere and then to the Latin (Grammar) School, first in Sandwich and then in Ghent, to which town his family returned after the pacification of Ghent in 1576 (Frijhoff 2010: 13-14). Baudartius would later contribute to the compilation of the States Bible, first published in 1637, and write works in Dutch such as Morghen-wecker der vrye Nederlantsche Provintien ('Rising Sun of the free Dutch Provinces') (1610).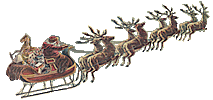 NAVIGATION

All Henry Livingston's Poetry, All Clement Moore's Poetry Historical Articles About Authorship
Many Ways to Read Henry Livingston's Poetry
Arguments, Smoking Gun?, Reindeer Names, First Publication, Early Variants
Timeline Summary, Witness Letters, Quest to Prove Authorship, Scholars, Fiction


Book, Slideshow, Xmas, Writing, The Man, Work, Illos, Music, Genealogy, Bios, History, Games

Copyright © 2016, Mary S. Van Deusen