HENRY B. GIBSON

Henry B. Gibson Website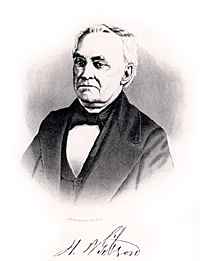 Henry B. Gibson. This distinguished early citizen of Canandaigua was born in Reading, Penn, April 13, 1783. His father was John Gibson, of Irish ancestry, who removed to Saratoga, N.Y., when Henry B. was nine years of age. The son's education was principally obtained in Saratoga, a career at the bar having been designed for him by his parents; but his studies developed an unusual natural aptitude for mathematics and an inclination toward commercial life which finally determined his occupations for life. He accordingly left home at sixteen years of age for Cooperstown, where he entered the employ of the leading merchant of the place, Judge Cooper, father of James Fenimore Cooper, the famous novelist, who was Mr. Gibson's lifelong friend.
After a period in the capacity of clerk, he sought a broader field by removal to Utica about 1808 with Mr. Hugh Cunningham, one of the early merchants of that village. This connection continued only a short time, when Mr. Gibson accepted employment in the county clerk's office under Francis A. Bloodgood, until 1812, when he was appointed teller in the Bank of Utica. This position he soon resigned, owing to some minor disagreement with the cashier, Washington Hunt. Mr. Gibson had already and thus early in his life set his mind fully and with characteristic determination upon becoming a successful man of business, and he clearly saw the road that must inevitably be traveled to that goal. His passing years were noted for unflagging industry, exceeding frugality for one at his time of life, and those personal habits of temperance in all things which he practiced to the end of his life. His small savings he early made to contribute to his earnings by loaning them in small amounts, evincing in such transactions the germs of the great business sagacity he afterwards displayed.
In the year 1802, Watts Sherman, who afterwards became Mr. Gibson's partner in law, formed a partnership in mercantile business in Utica with Arnold Wells (as we learn from a history of that city lately edited by Dr. M.M. Bagg).
Mr. Sherman was one of the pioneers of Utica, locating there in 1795, and for a time working as a cabinet-maker, but afterwards becoming a merchant. He was from Newport, Rhode Island, and descended from an old and prominent family. Mr. Sherman was more ambitious for advancement than his partner and they soon separated, Mr. Sherman largely extending his operations. He was one of the most prominent men in founding the first glass works there, with the factory at Vernon and was one of the directors of the company. Under date of May, 1813, he informed the public that he had taken into partnership Henry B. Gibson and Alexander Seymour, under the firm name of Sherman, Gibson & Co. The junior member of this firm remained and carried on the business in Utica, while Mr. Sherman and Mr. Gibson went to New York city and established a wholesale house.
Mr. Gibson's business operations in New York continued until 1819, and with reasonable success for that period. At the end of that time, he found himself the possessor of about $30,000, a considerable fortune in those early days when the millionaires of the country were very few in number. By the year 1813 the Ontario Bank was founded in Canandaigua, with many of the leading men of that section included in its direction. It had started under apparently favorable auspices; had erected in 1813 a large and imposing bank building, still standing on Main Street, and entered into competition for the banking business of what is now Western New ork. But its affairs did not prosper as had been anticipated and it was determined to change to some extent the management. Mr. Gibson's reputation as a skillful and prudent financier had preceded him to Ontario County, and indeed was more or less known through his New York commercial connections throughout the State. The result was that he was invited to accept the cashiership of this bank, which he did and entered upon his duties in 1820. It is more than probable that his acceptance of this office in a bank located in a rural community, where the actual payment for his services could not possibly approach in amount what he might reasonably hope to gain in business in the metropolis, was prompted to a large extent by his predilection for that highest of all commercial occupation, the conduct of a bank and the possibilities thereby opened for the exhibition of financial skill and large financial transactions. Mr. Gibson attacked the task before him of placing the affairs of the Ontario Bank upon a foundation that would commend it to the business community and secure the confidence of depositors, with the utmost vigor and all of his accustomed industry. That he was from the first and during all of his long connection with the institution eminently successful, is only another evidence of his thorough fitness for such a post and his consummate ability as a financier; while his personal characteristics were such as to win for him in all business circles the utmost confidence.
This unbounded confidence was of such a character that in the minds of many he came to be considered a special favorite of fortune, and it was a common expression that every operation in which he took an interest could not fail. The calmer judgement of later years defined the elements of his success more clearly and it was seen that success followed his undertakings wholly because he had the judgement, foresight and sagacity to see from the beginning the sure results of following certain well known business methods; that he was successful because he deserved to be on account of his industry, shrewdness, integrity and rigid adherence to the principles of temperance, the latter being always kept in view by him. His bank became one of the best known and most successful in the interior of the State, while through it and his other extensive operations he amassed one of the largest fortunes of the time outside of the great business centers of the country.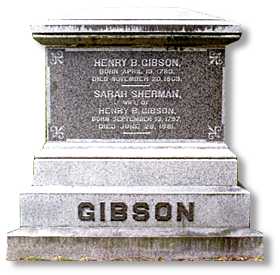 He held the office of county clerk from 1843 to 1849. He felt a deep interest in the early railroads and gave them practical aid; was president of the Auburn and Rochester Road and after the consolidation which brought into existence the New York Central he held the office of director.
His death took place in Canandaigua on the 20th of November, 1863. Mrs. Gibson died June 28, 1881.
["History of Ontario County," edited by George S. Conover, compiled by Lewis C. Aldrich, published 1893, pp.489-491]

The Valley Forge Order Book of Henry Gibson's grandfather, Col. Henry Bicker.