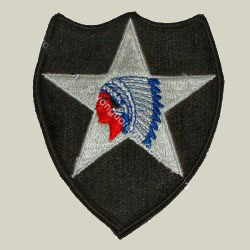 One Hundred and Forty Years of Service in Peace and War;

History of the Second Infantry,

United States Army; 140 Years...2nd Infantry

The Regimental Patch

by TenEyck Van Deusen
(Former Second Infantryman)


On a field of Infantry blue ...
Represeting ... campaigns ...
Seminole ... Indian Wars ...
The Regimental designation ...
Faithfulness ... Courage ... Honor."

They're right, of course it fades
And it has to be replaced
Which causes the usual
"Unwarranted expense"
But it's Ours!  The Regiment's!
Godchild of the Standard!
Worn by each honorable soldier
Of the Regiment!
A constant pledge
Of traditions to be maintained
Proud service to be remembered.

Grey smoke - hanging low on the green.
Green walls of the Everglades -
Keen white winds of desolate plains -
Tall arched palms
And tall, cold pines -
Glory and Death.  Honor and Service
And always, always the Regiment!

The Patch is ours!
Something we cherish.
The blue and the scarlet on the drab
Represents to us
The royal blue, the proud gold
And the fluttering battle ribbons
Of our Standard!
We wouldn't trade it
For five thousand enamed badges!
It is ours!
Distinctive insignia of 
The Second Infantry!

Published in "Our Army" for October, 1929.