Now that late fall has arrived upon this, our campus, and the lovely lady with the black coat has smiled upon us, we, in unison have decided to run this Whistle as a well brought up Whistle should run. One real toot! From now on for the next two weeks -- the undersigned will be the Royal and Joyous Order of Whistleers -- Third Class.


SIS


J.L.P.


THE BLIND TIGER


CHARLEY THE SPANIARD


TO VIRUS HOMO
A real cynic hasn't such an obvious desire to have some one applaud his cynicism -- Im afraid you dont quite qualify ... and some day you're gonna be sorry!

Sis
Find out if Virus Homo is Father

SUNSET


--Princesse Dorothy

In one of these English courses that people have to take around this place, the instructor wanted the mob to write a choice bit of description on the hottest experience they'd ever had. Whereupon one of the reprobates in the back row started to titter, and she had to add, "Literally, not figuratively, I mean."
Whistle:

Thus endeth the tenureof the Blind Tiger. As he slowly wends his way to the outer depths of the nothingness, his mangy tail waving to the cool evening breeze, there is a hard deep sigh -- Smith lost!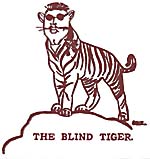 NIGHT ECSTASY


--Princesse Dorothy