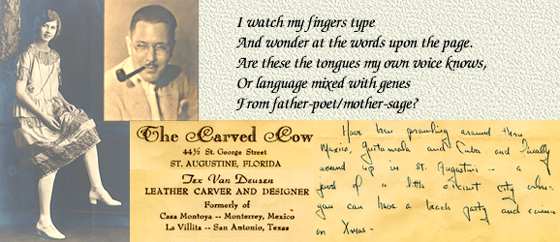 December 19, 1951

The Carved Cow
44 1/2 St. George St.
St. Augustine, Florida

My Darlin'

This is a love letter, a short one but still a love letter. If you don't want to read love letters from an embittered old soldier you can tear this up now.

You know, some long years ago, I met a girl in Chicago. A slim, lovely, adorable person who wore lacey bloomers. (Didn't find that out until later.)
She had laughter that was exciting, she had a mouth that was twisted into sheer beauty,she had a skin of silk and satin and memories. She had everything that any man with appreciation of beauty would desire. And I desired her. But I was a wild eyed young military idiot that didn't appreciate what I almost had.

She was loyal. Much more so than I. She allowed me to come to her in Chicago. Then, under the wildest conditions in the world she came to me and married me. It was economic Hell, we slept in hall bedrooms, I fought at St. Nick's, I gave blood under different names. But we were together and it was sufficient.


Bit by bit she built me up and made a full man of me. I went from a wild eyed Private to a fairly capable non-commissioned officer. She worked her heart out in jobs she didn't give a damn about to keep the tribe going and all the time she knew where we were going. Under her help I earned a Reserve Commision. Simply for my self pride, there was no need of it. The war came and I was called into my commissioned status.
We had a son then. A beautiful little brat who thought the world rose and fell in his "Daddy Tiger".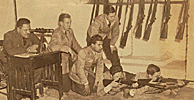 Things got better. I got my silver bar and was put out sniping at bad schools. Got my Captaincy to the pride of my son. Economics ceased to be such a helluva problem.
She stayed a beautiful woman with ready laughter, brilliance and kindliness. The original passion remained with me. The touch of her, the nearness of her was an eternal flare in my emotions and heart.
We had another child, an adorable little girl with her mother's heart shaped face. We carried her around in a blue canvas case to show her off.
The "sniping" got very tough. Hall bedrooms, cheap apartments and I was always and forever tired and tied up with my trade.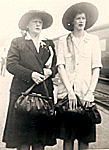 This beautiful lady became emotionally exhausted. I was too damned busy to understand or know. So, she went to her home on the theory that after the war and my certain retirement that things would be all right. They didn't, her exhaustion became a complete emotional collapse. I too was on the frayed edge and when I came to her I got a mental beating that the whole war hadn't been able to give me. She came out of it but by that time my orders had called me back and I could do nothing. Her mother had lied to the doctor, to her and to me until none of us knew the score.
She was still the most beautiful woman in the world but she had lost all faith in her husband.
Then the real Hell started. She abandoned me. I became an escapist. I found that by staying more or less drunk I could forget how beautiful my Lady was and her sweetness and her love for me. I forgot everything and wandered all over the face of the land trying to find some peace of mind. I didn't care for clothing or decency or niceness, all I wanted was to get drunk enough to go to sleep without remembering this Lady. My sickness became too much for me. I was an ill man, a sick man and a defeated man. I lived twenty four hours a day with the scented dream of her in my heart and mind without the ability to try to correct it.
I made two good tries. Once my illness caught up with me at the wrong time and once I got so nervous over the possibility of a reconciliation that I blew that up trying to keep myself quiet.
I loved that girl, I loved the children I had by her. I loved the great emotional moments we had together and I loved the quiet laughing days and nights we spent. I will always love her.
I do not know if I can ever regain her and my children. I do not know if I have the physical and emotional ability to make myself again a father the children can be proud of or a man my woman wants. I only know that I will try. "He seen his duty, he done his damndest, Angels can do no more."

I love you, Jean.
Tiger #1