August 2, 1952

The Carved Cow
44 1/2 St. George St.
St. Augustine, Florida
Jean Dear:-
I have waited over twelve days since I left the Hospital to write this.
Avoiding emotion - Just current facts.
Whatever went before I am probably more responsible than anyone concerned.
According the facts. I have been a very ill man since '44 or so. I am NOT an alcoholic. Drinking has been escape from pain and misunderstanding. I have not had a drink of hard liquor for over six months. It hasn't made a great deal of difference. I'm still in pain and I'm still very lonely for you.

There is one great love for a man and one for a woman. Sublimated by mating and children it becomes perfection.
"...in sickness, in sorrow or in health 'til Death do us part..."
I've seen the Lord in the past few months and when I came back I asked the Doctors, "Why couldn't you let me go? I'm tired." They had no answer except the pride of the profession but the old priest, who had given me the last rites said, "There must be something you have yet to do."
I think I know what it is and in my own stupid way I'd like to do it.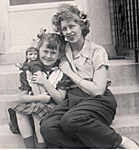 Jean, I have a year, maybe two or three ahead of me. You are my Lady and the mother of my children.
By remarriage you will be entitled to pension, insurance et al.
I ask nothing. Companionship if you feel in the mood - the chance to see and be with my kids and my girl to hold my hand when the boom comes down.
I will keep a separate room and I will not impose upon you.
Would honestly like to go back to Manasquan and see how our roses are doing. There are good schools there and TE could commute to Xavier if you and he wished.
I have enough retirement pay to get along. We won't be wealthy but we won't miss too much either.

I'm a soldier, I cannot practice my profession any longer. YOU made me a sargeant; YOU made me a Lieutenant, YOU made me a Captain, but By Allah, I made myself a Major.
Since my retirement I became one of the best leather carvers.
Now, since my illness my hands are not too good. Not good enough for the things I wanted to do. So, where am I? A lost patrol with nothing. I asked for it and I got it, I suppose, but it doesn't make it any easier.
The days have been tough for you. My sorrow does not replace. But, please, in your kindliness, remember I was not a responsible man. Serious illness can play some strange tricks.
Yours will be the last name I speak. I love you.
Tiger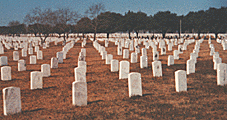 Jean never returned to him, although she never remarried. Bradley never again saw his son or daughter and died in San Antonio, Texas on September 23, 1955 and was buried in the Fort Sam Houston military cemetery.