Bob Robinson to Bradley
Arizona
All continues serenely. Calmest I've been in years.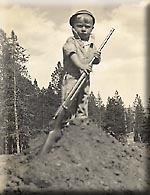 Got Brad a $2.50 Parker-Hale rod. But both Stoeger & National Target send me only round patches. Will ya mail us a bunch of those square ones. Enclosing a little postage. Would send more, but spending every cent for blasting power. (I owe 60 per month for a year, and it'll be a year more before the mine begins paying).
Brad having grand life: fishes, shoots, rides burrows, etc. Only 3 more weeks of school here!
Long time no eat jerky? Better soak it 18 hours or so and then cook slowly, quite a few hours (2 or 3). Not bad!!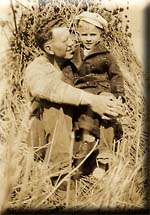 Staying cold sober. Feeling fine. Working hard. Getting in shape, too. Knee bothers a little, but otherwise -- hell, just a boy!!
This country still wild. Virginal, in fact. Very few cattle any longer. Time has stopped, so far as concerns Tonto Basin!!
When going West? Might meet you...
All quiet along the Potomac...
Geev it a line
Try to get a copy of REAL Detective Magazine for February, 1939. Has article, with pictures, of the Plesant Valley War. We now live in the old Rock House, which was a fort in those days. Brad has a loop-hope beside his bed. Walls are 18" thick solid rock.
Jerky is also good to simply chew. Probably be better with ale!!